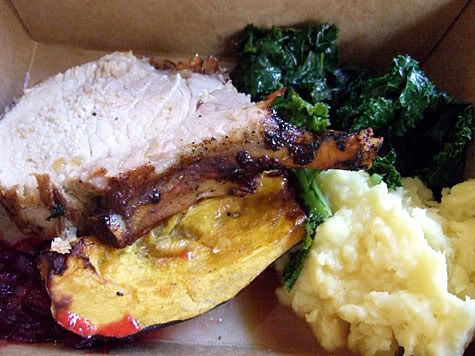 Bradley Ogden's recipes that I got while dining at the
Cafeteria in Levi's Plaza
, SF, CA
2 lbs Pork loin, center cut, small-eye, well marbled, 4-5 bone rack
1/2 tsp cumin seed, toasted and ground
1/3 cup honey
2
tbsp
Dijon mustard
1/4 cup olive oil
salt and pepper to taste
2
tbsp
unsalted butter
2 cups yellow
spanish
onion, peeled and sliced
2 cups chicken stock
2 cups apple cider vinegar
1 cup fresh apple juice, pressed
(in a sachet bag: 1 sprig of thyme, 1 tsp peppercorns, 1/4 bay leaf, 4 parsley stems)
1.5 cup cranberry jam (recipe below)
Procedure
Preheat oven to 350-375 degrees
Toast cumin seeds in a dry skillet over medium heat. Remove from heat and grind in a spice grinder.
In a small bowl mix the ground cumin, honey, mustard, olive oil, 2

tbsp

of kosher salt and 1.5 tsp of fresh ground black pepper
Arrange a baking sheet with a baking rack. Loosely cover the bones of each pork rack with foil
Brush a thin layer of the above

mixture

on all sides of the pork. Lay facing up on the rack.
Roast until internal temp is 160 degrees. Let rest in warmer until ready to serve.
Honey Vinegar Sauce
yields 2 quarts
Ingredients
10 each white onions
12 each garlic cloves
1/4 lb butter
1/4 cup olive oil
1/2 gal chicken stock
1 quart apple juice
1 bottle white wine
1/2 gal apple cider vinegar
10 sprigs fresh thyme
2 each bay leaves
1/2 tsp chili flakes
to taste salt and fresh ground black pepper
Procedure
Caramelize the onions and garlic together over low heat
Add the rest of the ingredients except the salt ad black pepper and reduce by 2/3 of until the sauce coats the back of a spoon.
Strain the sauce through a

chinois

, season to taste with salt and fresh black pepper
Cranberry Jam
yields 1.5 cups
Ingredients
1 cup cranberries, clean and pick stems (discard any bruised ones)
1/2 cup sugar
1
tbsp
fresh lemon juice
Procedure
Place all the ingredients into a small, heavy bottom stainless steel sauce pan and cook over medium heat just until the cranberries start to pop.
Pass through a fine grind food mill and let cool.
Whipped sweet Potatoes
serves 4
Ingredients
1.5 lb sweet potatoes
3/4 cup organic apple juice of apple cider
1
tbsp
fresh ginger, peeled and grated
1
tbsp
unsalted butter
1/4 cup heavy cream
1 tsp kosher salt
3/t tsp fresh ground black pepper
Procedure
Preheat oven to 400 degrees
Scrub the potatoes under running cold water. Place on a baking sheet and bake until soft, approximately 45 minutes.
While the potatoes are baking, add the apple juice and ginger to a non-corrosive saucepan. Place over a moderate slow burner to steep for 10 minutes. Strain and set aside until needed.
Remove the potatoes from the oven; cool slightly before handling. Remove and discard peels and rinse the potatoes.
Place the potatoes in a bowl of an electric mixer. Using the whip attachment, whip together the butter and the cream. Continue whipping while adding the apple-ginger juice.
Season with salt and black pepper; keep warm until ready to serve.
Combine the remainder of the

ingredients

together in a bowl, reserving the chilies.
Add the chilies as needed for taste. Add this mixture onions mixture and season to taste. Cover and refrigerate approximately 1/2 to 1 hour before serving so all the flavors have a chance to develop.
Note: Make sure the potatoes remain rather stiff. You may not need to add all the liquid to the sweet potatoes.