From Eric Gower's Breakaway Japanese Kitchen. This collection of recipes has a lot of really interesting combinations that I am sure will be challenging to the average palate. When I first got the book, I tried one dish, the Unplain Rice, which he claimed is his standard rice. I hated the recipe and tossed the cookbook into a dark corner in the bookshelf, but I'm glad I dusted it off and gave it another try.
The shiso and miso give these vegetables a "fresh" spin that people seem to love
I have several purple and green shiso plants growing wild in my garden, the seeds from last year's plants sprouted here and there which I ended up repotting into my official herb pot...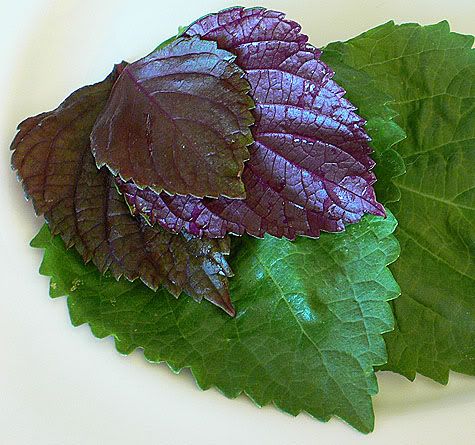 Serves 3 or 4
2 ears very fresh corn, shucked
2 tblsp extra virgin olive oil
1 small to medium zucchini, roughly chopped
1 small bag (about 1/4 lb) fresh breen geans, ends trimmed, cut in 1-inch pieces
sea salt
fresh coarsely ground black pepper
1 tblsp walnut oil
2 tblsp brown rice (or other) vinegar
1 tblsp miso
1 tsp apricot jam (I did not use any and substituted with 1/2 tsp sesame oil)
10 shiso leaves, minced
1 tblsp chives, minced
Cut the kernels form the cob into a bowl. Warm the olive oil in a large frying pan, add the corn, zucchini, and green beans. Salt and pepper them, and cook over medium heat for about 5 minutes. Meanwhile, combine the walnut oil, vinegar, miso, and jam in a cup and mix, to make a vinaigrette. Add this to the pan, mixing gently but thoroughly. Add the shiso and mix again. Taste for salt, and serve on warm plates. Top with chives.
I didn't have green beans, so substituted a bunch of chopped chard, which tasted very good instead. It was surprisingly good and had a rich buttery flavor from the miso, Mr. K and I had 2 bowls each before we knew it and the entire thing was gone...