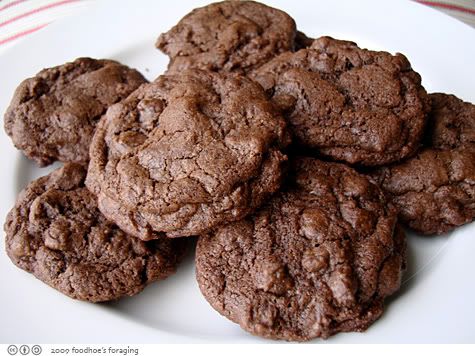 My cousins Sue and Judy visited from SoCal for the recent holidays and helped me make cookies for our Thanksgiving feast. We made the delicious chocolate chocolate chip cookies that I read about on
Hungry Dog
, that are based on a recipe from Ina Garten's
Barefoot Contessa Parties
(thanks Samantha, these were delicious)!
2 stick (8 oz) unsalted butter, softened
1 cup light brown sugar, packed
1 cup granulated sugar
2 tsp vanilla extract
2 large eggs
2/3 cup unsweetened cocoa
2 cups all purpose flour
1 tsp baking soda
1/2 tsp kosher salt
3 cups chocolate chips

Preheat the oven to 350 degrees F.
Beat the butter and both sugars together until light and fluffy in the bowl of an electric mixer fitted with the paddle attachment. Add the vanilla, then the eggs, 1 at a time, and mix well. Add the cocoa and mix again. Sift together the flour, baking soda, and salt and add to the chocolate with the mixer on low speed until just combined. Stir in the chocolate chips.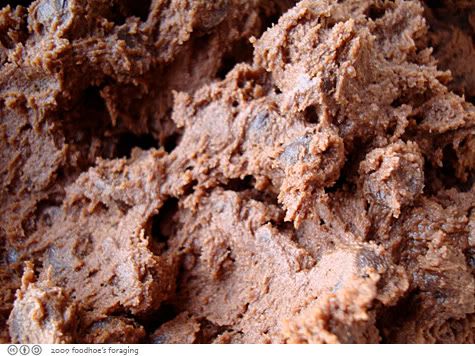 Use two spoons, one to scoop up dough, and the other to scrape it onto a baking sheet lined with parchment paper or a silpat mat. I fit 12 cookies onto the sheet, leaving a few inches around each blob of dough. Dampen your hands and flatten the dough slightly.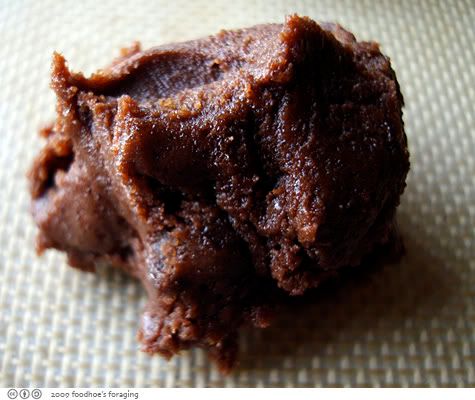 Bake for exactly 15 minutes (the cookies will seem underdone). Remove from the oven and let cool slightly on the pan, then transfer to a wire rack to cool completely.