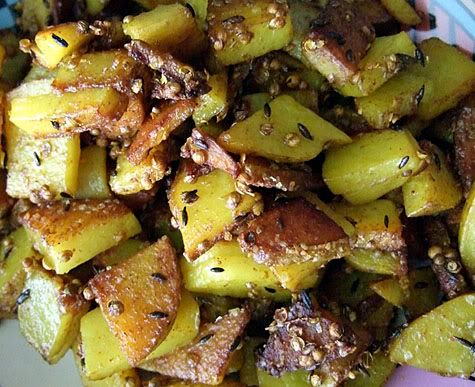 Recipe is by Ruta Kahate, from her book 5 Spices, 50 Dishes, published on
NPR
Soft on the inside and crisp on the outside, these potatoes will go very well with your next pot roast or steak. You can also use them to add a subtle indian touch at breakfast by serving them with buttery scrambled eggs. They are unexpectedly spicy and so delicious!
4 large russet potatoes (about 2-1/4 lbs), boiled and peeled
6 tablespoons canola oil
1/2 tsp cumin seeds
2 medium green serrano chiles, cut lengthwise in quarters
1 tsp ground turmeric
1 tsp salt
3 tablspn coriander seeds, coarsely crushed
Slice the potatoes lengthwise into quarters. Then cut them crosswise into 1-inch pieces.
Make the tadka: Heat the oil in a slarge wok over high heat. When the oil begins to smoke, add the cumin seeds, covering the pan with a lid or spatter screen. AFter the seeds stop sputtering, add the chiles. When the chiles are well toasted, add the turmeric and briefly stir. Add the potatoes and salt, toss well, cover, and leave on medium-high heat until the potatoes are slightly toasted, about 4 minutes.
Uncover and add the coriander seeds, and toss well again. Continue to heat uncovered, tossing occasionally, until the potatoes are crusty and well browned, 6 to 8 minutes. Serve warm.
Serves 4