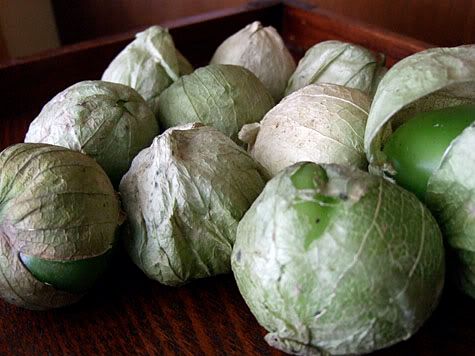 recipe adapted from
Rick Bayless's Mexican Kitchen

makes about 2-1/2 cups
1 lb (10 to 12 medium) tomatillos, husked and rinsed
Fresh serrano chiles to taste (roughly 5, about 1 oz total)
2 large garlic cloves, unpeeled
2 chipotle peppers in adobo sauce
1 small (4 oz) white onion, finely chopped
1/4 cup loosely packed, roughly chopped cilantro
Salt, about 1 generous teaspoon
Sugar, abut 1 scan teaspoon (if needed)
1.
Roasting the key ingredients
. Lay the tomatillos on a baking sheet and place 4 inches below a very hot broiler. When the tomatillos blister, blacken and soften on one side, about 5 minutes, turn them over and roast the other side. Cool completely on the bakin sheet.
Roast the chiles and garlic on an ungreased griddle or heavy skillet overmedium heat, turning occasionally until blackened in spots and soft, 5 to 10 minutes for the chiles, about 15 minutes for the garlic. Cool, then pull the stems from the chiles and peel the garlic.
2. The puree. Scrape the roasted tomatillos (and any juices that have accumulated around them) into a food processor or blender, along with the roasted chiles, garlic and chipotle peppers. Pulse the machine until everything is reduced to a rather coarse-textured puree - the unctuously soft tomatillos will provide the body for all the chunky bits of chiles and garlic.
Scrape the salsa into a servng bowl, then stir in between 1/4 and 1/2 cup water, to give the sauce an deasily spoonable consistency. Scoop the onion into a strainer, rinse under cold water, shake off the excess and stir into the salsa, along with the cilantro. Taste and season with salt and a little sugar.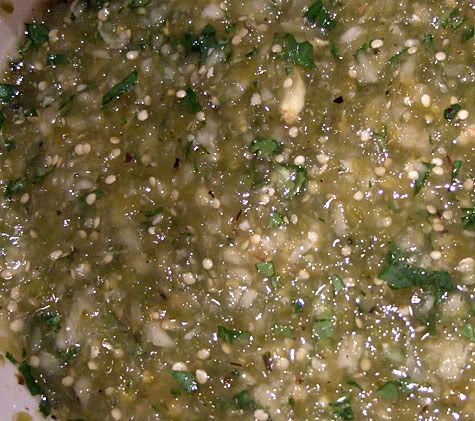 This salsa should be eaten within several hours after you've added the onion and cilantro, though you can make the puree a day or more ahead.