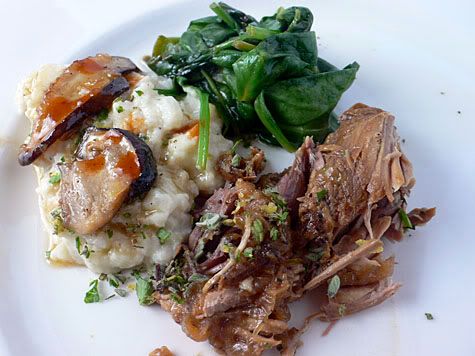 I finally put the cast iron pot to good use with this recipe last weekend by making this delicious recipe that I adapted from Epicurious.com. I picked up a beautiful bone-in pork shoulder and while the cooking time is very long, there was very little effort required to turn it into a tender pile of meat.

Ingredients
1 (3- to 4-lb) bone-in fresh pork shoulder half (preferably arm picnic)
2 garlic cloves, cut into slivers
1 tsp chile powder
1/2 tsp cumin
1/2 tsp salt
1/2 tsp ground black pepper
2 tablespoons olive oil
1 1/2 lb onions (5 or 6 medium), halved lengthwise, then cut lengthwise into 1/4-inch-thick slices
3/4 cup unfiltered apple cider (I used the Bragg's with the mother)
Preparation
Preheat oven to 325°F.
Score fat and any skin on pork in a crosshatch pattern. Make slits all over meat with a small sharp knife and insert a garlic sliver in each slit. Pat pork dry and season with dry spice mixture.
Heat oil in a 4- to 5-quart ovenproof heavy pot over moderately high heat until hot but not smoking, then brown meat on all sides, turning occasionally with the aid of tongs and a carving fork, about 8 minutes. Transfer pork to a plate.

Add onions to pot and sauté over moderately high heat, stirring occasionally, until softened and starting to turn golden, about 5 minutes. Add 3/4 teaspoon salt and sauté, stirring occasionally, until onions are golden and caramelized, 8 to 10 minutes more.

Stir in cider and return pork to pot. Cover pot with a tight-fitting lid and braise pork in middle of oven until very tender, 2 1/2 to 3 hours.

Transfer pork to a serving dish with the aid of tongs and carving fork. Boil cooking juices with onions until mixture is reduced to about 2 cups, 2 to 3 minutes, then season with salt and pepper and serve with pork.

note: I made this 1 day ahead, then cooled it uncovered, and chilled overnight, covered. I was able to scoop up a thick layer of fat very easily. Reheat in liquid, covered, at 325°F 1 hour.


Active time: 30 min Start to finish: 3 hr Servings: Makes 4 to 6 servings.