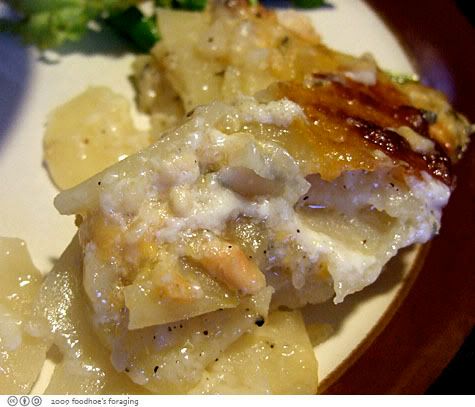 Bon Appétit | November 1999 | by Rick Rodgers

Yield: Makes 12 servings
Total time can take up to 2 hours (includes 2 rounds of baking for 45 minutes)
This is so good and much easier to cut all those potatoes if you have a mandoline...
3/4 cup (packed) grated extra-sharp cheddar cheese (about 4 ounces)
3/4 cup crumbled Danish blue cheese (about 4 ounces)
1/3 cup (packed) freshly grated Parmesan (about 1 1/4 ounces)
4 russet potatoes, peeled, cut into 1/4-inch-thick rounds
1 1/2 teaspoons salt
1/2 teaspoon ground black pepper
1/4 cup finely chopped onion
3 tablespoons all purpose flour
4 tablespoons (1/2 stick) butter
2-1/2 cups whole milk
Preheat oven to 400°F. Lightly butter 13x9x2-inch glass baking dish. Mix cheddar cheese, blue cheese and Parmesan in small bowl.
Arrange half of potatoes in prepared baking dish, overlapping slightly. Sprinkle with teaspoon salt and 1/4 teaspoon pepper. Sprinkle onion over, then flour. Dot with 2 tablespoons butter. Sprinkle half of cheese mixture over. Top with remaining potatoes, 3/4 teaspoon salt, 1/4 teaspoon pepper and 2 tablespoons butter. Reserve remaining cheese.
Bring milk to simmer in medium saucepan. Pour milk over potatoes (milk will not cover potatoes completely). Cover baking dish tightly with foil. Bake 45 minutes. Uncover dish (liquids in dish may look curdled); sprinkle potatoes with reserved cheese mixture. Bake uncovered until potatoes are tender and cheese is deep golden brown, about 45 minutes longer. (Can be prepared 2 hours ahead. Let stand at room temperature. Cover and rewarm in 375°F oven about 20 minutes.) Remove from oven; let stand 15 minutes before serving.