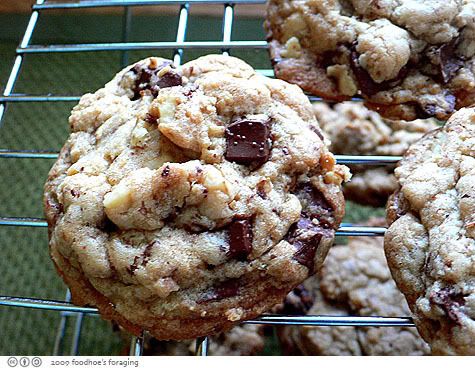 I found this recipe on Smitten Kitchen who proclaimed it to be their favorite chocolate chip cookie, adapted from David Lebovitz's, Great Book of Chocolate. Hmmm, I am a tollhouse cookie girl and don't know why I keep trying to find something better! This cookie has a high chocolate to cookie ratio, and the cookie is crisper.
I had just listened to food scientist Shirley Corriheron being intereviewed on the NPR radio program All Things Considered about her new book Bakewise: The Hows and Whys of Successful Baking. To prevent flat cookies, she suggests using an unbleached flour or a bread flour because they're higher in protein. More protein sucks in more water when they join together to make gluten, she says. She also suggests melting the the butter for the same reason, and that making cookie batter the night before is a good thing. The comments all mentioned flat cookies, so I decided to go with the bread flour, melted butter and then refrigerate the dough over night. I also used Scharffenberger semisweet chocolate chunks.

Makes 20 cookies
1/2 cup (100 grams) granulated sugar
1/2 cup (120 grams) firmly packed light brown sugar
8 tablespoons (1 stick) (115 grams) unsalted butter, cold, cut into 1/2-inch (1cm) pieces
1 large egg
1 teaspoon vanilla extract
1/2 teaspoon baking soda
1 1/4 cups (175 grams) all-purpose flour
1/2 teaspoon flaky sea salt
1 1/2 cups (200 grams) semisweet chocolate chips
1 cup (130 grams) walnuts or pecans, toasted and chopped
Adjust the oven rack to the top third of the oven and preheat to 300F (150C). Line three baking sheets with parchment paper.
Beat the sugars and butters together until smooth. Mix in the egg, vanilla, and baking soda.
Stir together the flour and salt, then mix them into the batter. Mix in the chocolate chips and nuts.
Scoop the cookie dough into 2-tablespoon (5cm) balls and place 8 balls, spaced 4 inches (10cm) apart, on each of the baking sheets. Since I had refrigerated the dough overnight, the dough was very stiff and firm.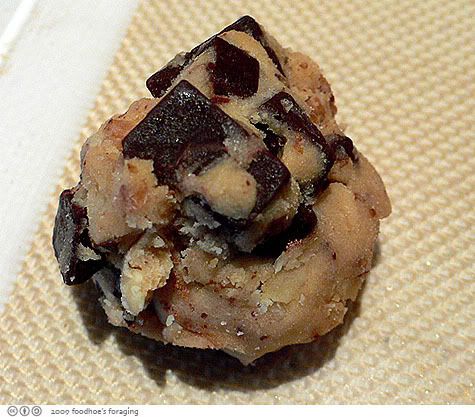 Bake for 18 minutes, or until pale golden brown. Remove from the oven and cool on a wire rack.
Store at room temperature in an airtight container for up to 3 days.
My opinion? These were not better than Tollhouse cookies, which have the perfect flavor combination of butter, salt, cookie dough and chocolate. These were stiffer and tasted less buttery and maybe it was the fancy bittersweet chocolate chunks that were less sweet than the Nestle's chips... We ate them all though!