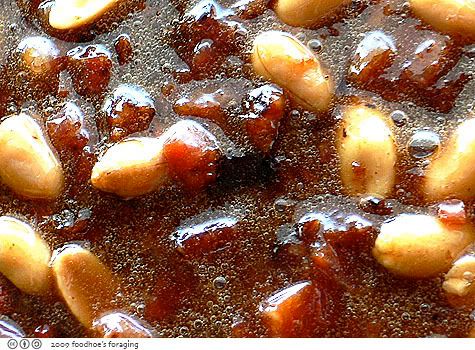 I found this
recipe by Brian Ries
online at Creative Loafing's site.
1/2 cup brown sugar
1/2 cup sugar
1/2 cup light corn syrup
1/2 cup water
1 tablespoon reserved bacon fat
2 teaspoons vanilla extract
1 teaspoon baking soda
1/2 tsp salt
3/4 cup cocktail peanuts
1 pound bacon (I used a package of thick cut applewood smoked bacon and cooked in the oven using the technique below)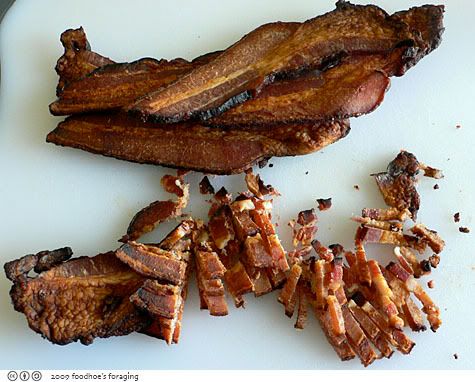 1. Liberally grease a large baking sheet, or cover a baking sheet with greased parchment paper, or use a silicone mat (like a silpat).
2. Fry the bacon. You want it crisp, but not too crisp. Chop or tear the bacon into 1/4 to 1/2 inch bits.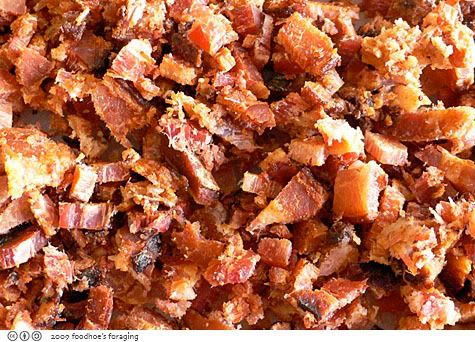 3. In a medium saucepan, combine both sugars, the corn syrup and water over medium heat. Stir until the sugar dissolves and the syrup comes to a boil. Attach a candy thermometer to the pan, increase the heat to medium high, and cook, without stirring, until the mixture reaches 290 degrees. Immediately turn off the heat.
(Try not to mess with the sugar while it is boiling, in order to avoid crystallization. Corn syrup is much maligned, but it's a classic tool that helps avoid that crystallization. I tried versions with all white sugar and all brown sugar, but found that a mixture of both combined deeper flavor with that glowing translucence that makes brittle so pretty.)
4. Stir in the bacon fat, vanilla, baking soda and salt and quickly stir to distribute. Then, quickly add peanuts and bacon bits and mix to coat. Immediately pour the hot mixture onto a prepared baking sheet. Use a silicone spoon or spatula to spread mixture as thinly as possible.
(There is so much stuff in the brittle, it will start to seize and thicken quickly. That – and the mass of bacon and peanuts – prevents the brittle from becoming nice and thin. If you want that style, cut the amount of peanuts and bacon you add and leave the heat on when you stir in all the ingredients. This should make for a lighter style of brittle.)
5. Cool 10-20 minutes until hard, before breaking into pieces. Store in a covered container.

Oven Fried Bacon

Adjust oven rack to middle position and heat oven to 400 degrees. Arrange bacon slices in a large jelly-roll pan or other shallow baking pan. Roast until fat begins to render, 5 to 6 minutes; rotate pan front-to-back. Continue roasting until is crisp and brown, 5 to 6 minutes longer for thin-sliced bacon, 8 to 10 minutes for thick-cut. Transfer with tongs to paper towel-lined plate, drain, and serve.