I found this delicious recipe to use all of these fine spring vegetables that have ripened to perfection in my pantry. It's from The Lutece Cookbook
, co-authored by Chef Andre Soltner, who helmed the famed kitchen at Lutece for 30 years. He now is Dean of Classic Studies at the French Culinary Institute in New York and I was tickled to see him once as a stern guest judge on an episode of Top Chef.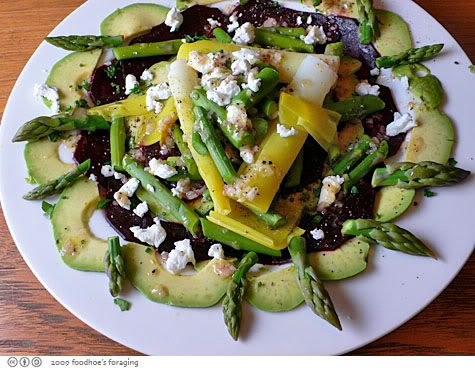 SALAD OF LEEKS, BEETS AND AVOCADO
Serves 4
4 small red beets
4 medium leeks, the white part only
2 avocadoes, ripe
4 small shallots, peeled and chopped fine
1 teaspoon Dijon mustard
1-1/2 tablespoon vinegar (tarragon vinegar preferred)
generous pinch salt
pepper, freshly ground
2-1/2 tablespoons olive oil
1/2 tablespoon minced chervil (or Italian parsley)
1. Cook the beets, covered in boiling salted water until they are tender-about 45 minutes. Peel the beets, cut them in 1/8 inch slices, and set them aside at room temperature. Do not chill them
2. Split the leeks in half lengthwise, and wash them thoroughly. Tie them in a bundle, and cook them, uncovered, in boiling salted water until tender - about 15 to 20 minutes. Set the leeks aside at room temperature. Do not chill them.
3. Cut the avocados in half -- to the seed -- lengthwise. Twist the 2 halves in opposite directions to separate them. Remove and discard the seed. Peel off the skin, and cut the avocados in 1/8 inch slices. Arrange the slices decoratively on 4 plates with the beets and leeks.
4. In a mortar and pestle, smash the shallots. Add the mustard, vinegar, salt and pepper. Whisk these ingredients together and then, whisking constantly, slowly add the oil. Pour this vinaigrette over the vegetable. Sprinkle the salad with the chervil (or parsley). Serve at room temperature.
I added steamed asparagus and some bits of goat cheese I had in the fridge. Delicious with a crusty baguette and butter... Mr. K, who has long been a beet-hater, actually liked this salad. Despite initial fear and trepidation he said he finally has had a moment when he didn't hate beets.