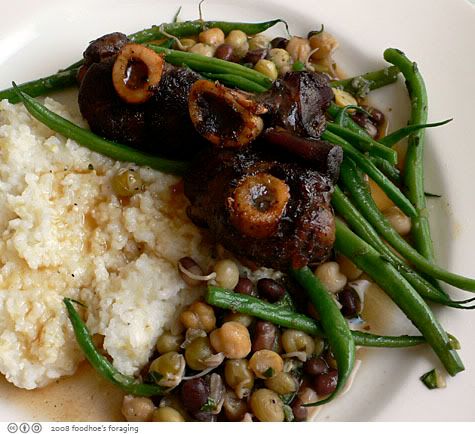 I found this recipe online at
foodandwine
, which I copied to save having to type the whole thing over again, but I actually followed the recipe from the book
Sunday Suppers at Lucques
by Chez Panisse alum Suzanne Goin. I'd say the book version is way more complicated. Wish I had seen this earlier! You can read more about my results
here
. Actually F&W has 38 of her recipes online, so I suggest checking those out first.
SERVES: 4
If using lamb shanks, have your butcher cut the shanks into thirds. I used lamb osso bucco.
Ingredients
LAMB
3/4 cup extra-virgin olive oil
6 garlic cloves, crushed
6 thyme sprigs
1 rosemary sprig, leaves only
4 meaty lamb shanks (6 pounds total), cut crosswise into thirds
Salt and freshly ground pepper
1 medium onion, coarsely chopped
1 small fennel bulb--trimmed, halved lengthwise, cored and coarsely chopped
1 small carrot, finely chopped
1 1/2 cups dry white wine
3 flat-leaf parsley sprigs
Strips of zest from 1/2 lemon
1 bay leaf
3 cups lamb stock or beef stock, or 11/2 cups canned beef broth mixed with 1- 1/2 cups water
TAPENADE
1 anchovy fillet, mashed
1 garlic clove, halved
1/4 cup extra-virgin olive oil
1/2 cup Niçoise olives (about 4 ounces), pitted and chopped
1 tablespoon fresh lemon juice
1 tablespoon chopped flat-leaf parsley
1 teaspoon capers, rinsed
SHELL BEANS
1 tablespoon extra-virgin olive oil
2 tablespoons minced shallots
1 teaspoon minced garlic
1 teaspoon thyme leaves
2 cups fresh shelled or frozen beans (about 10 ounces), such as black-eyed peas or cranberry beans. (I was only able to find a sprouted medly of fresh garbanzo, adzuki and peas that took at least 10 times as long to cook!)

2 cups water
1/2 teaspoon salt
PREPARE THE LAMB: In a large bowl, combine 1/2 cup of the olive oil with the garlic, thyme and rosemary. Add the lamb and turn to coat. Let stand at room temperature for 2 to 3 hours, turning occasionally, or refrigerate overnight.

Preheat the oven to 325°. Scrape off the marinade and season the lamb with salt and pepper. Heat the remaining 1/4 cup of oil in a large enameled cast-iron casserole until shimmering. Working in 2 batches, sear the lamb over moderate heat until well browned all over, 8 to 10 minutes. Transfer to a platter.

Add the onion, fennel and carrot to the casserole and cook over low heat, stirring, until lightly browned, about 6 minutes. Add the wine, parsley sprigs, lemon zest and bay leaf and boil until reduced by half, about 6 minutes. Return the lamb to the casserole, add the stock and bring to a boil. Cover and braise in the oven for 2 1/2 to 3 hours, or until the meat is almost falling off the bones; turn the lamb twice during cooking.

Using a slotted spoon, transfer the lamb to a platter. Strain the cooking liquid, pressing the vegetables through the strainer. Skim off the fat and season with salt and pepper. Return the meat and the sauce to the casserole and keep warm. The book differs by saying to remove the meat and place on a baking sheet at 400 degrees for 20 minutes - while I'm sure there was a good reason for this, it practically ruined the dish for me! That's why it looks so dried out...


MAKE THE TAPENADE:

Meanwhile, in a mortar, crush the anchovy and garlic to a paste. Alternatively, mash the anchovy and garlic with the side of a large knife. Stir in the olive oil, olives, lemon juice, parsley and capers.


MAKE THE BEANS:

Heat the oil in a medium saucepan. Add the shallots, garlic and thyme and cook over moderate heat until softened. Stir in the beans, add the water and salt and cook over low heat until tender, about 20 minutes. I was only able to find fresh sprouted beans at the store, which took a couple of hours to cook, so it's a good idea to start these beans after you put the lamb into the oven, just in case it takes you a long time too!

Drain the beans and spoon them into bowls. Spoon the lamb stew over the beans, top with the tapenade and serve.
MAKE AHEAD The recipe can be prepared through Step 5 and refrigerated overnight.