this recipe is based on Ina Garten's
recipe
2 tablespoons butter
1 cups chopped leek, white and light green parts (1 leek)
1 cup chopped yellow onion
2 cups chicken stock, preferably homemade
2 cups freshly shelled peas
1/3 cup chopped fresh mint leaves
2 teaspoons kosher salt
freshly ground black pepper and salt to taste
sour cream for garnish
2 tablespoons freshly chopped chives
Instructions:
Heat the butter in a large saucepan, add the leeks and onion, and cook over medium-low heat for 5 to 10 minutes, until the onion is tender. Add the chicken stock, increase the heat to high, and bring to a boil. Add the peas and cook for 3 to 5 minutes, until the peas are tender. Take off the heat, add the mint, salt, and pepper.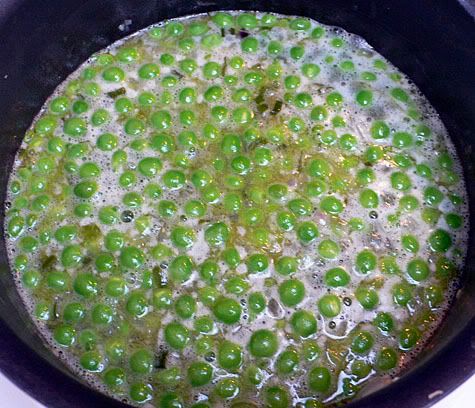 Puree the soup using an
immersion blender
. Whisk in some sour cream and chives and taste for seasoning. Top with a splash of olive oil or sour cream... Oh and a squeeze of fresh lemon juice really brightens it up too.