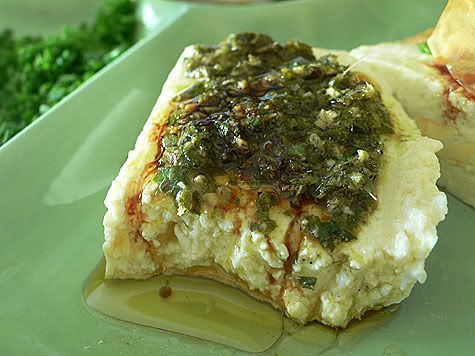 From Eric Gowers Breakaway Japanese Kitchen
This would go very well on fish or meat too. It was a little bit too bright tasting, so I drizzled some sesame oil and soy sauce over it to balance it out.
Serves 2 or 3
20 fresh shiso leaves
1 heaping tablespoon baby ginger, minced (normal ginger will work too)
zest of 1 orange (or other orange citrus), a tblsp reserved
3 to 4 tablespoons juice of any orange citrus
1 tblsp extra virgin olive oil
1 tblsp brown rice vinegar (or other vinegar)
sea salt
fresh coarsely ground black pepper
1 tub oborodofu, about 1/2 lb. I used fresh tofu from
San Jose Tofu
Blend everything except the tofu in the blender. Divide the tofu into two or three of your prettiest bowls, and spoon over the sauce. Taste for salt, and garnish with the reserved zest.
Citrus zest addes a tremendous boost of flavor and complexity to whatever it touches, has virtually no calories, and costs almost nothing. I can't get enough of it. A ten-dollar investment in a microplane zester will reward you for years, but you certainly don't need one. Just slice off the peel of any citrus with a vegetable peeler or sharp knife, scrape away any bitter white pith clinging to it, and mince it up.