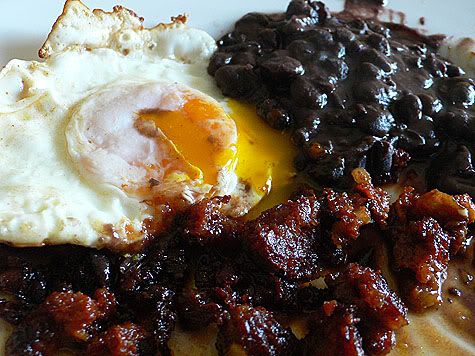 Using the last of the
Marin Sun Farm
eggs, Mr. K made me a delicious breakfast of fried eggs, leftover refried beans and chorizo from
Snake River Farms.
The quality of the chorizo is very good and it crisps beautifully and doesn't dry out at all. Anyways, he is a big fan of Rick Bayless's cooking and used this recipe from his
Mexican Everyday
cookbook. The beans freeze beautifully.
Makes 2.5 cups, serving 4-5
2 to 3 tablespoons rich tasting fresh pork lard, vegetable oil or bacon drippings (use 3 tbl for creamier beans)
2 to 3 garlic cloves, peeled and finely chopped or crushed through a garlic press
3.5 cups home-cooked beans or two 15-oz cans
salt
Heat the oil in a skillet over medium heat. Add the garlic and cook, stirring constantly, until fragrant but not brown, about 1 minute. Add the beans. As the beans come to a simmer, corasely mash them with a bean masher, old-fashioned potato masher or the back of a large cooking spoon. How smoothly you mash them is entirely a matter of personal preference - in most cases, I like them rather chunky. Cook, stirring nearly constantly, until the consistency of very soft mashed potatoes - expect about 10 minutes total cooking time. Taste and season with salt if you think necessary.
Beans for dinner: A super-easy dinner starts with frying a packed cup (8 oz) fresh Mexican chorizo sausage (casing removed), tipping off the excess fat, then adding the garlic and the beans. Cook until thickened, and serve with warm tortillas, a little salsa and a salad.