I followed my favorite Korean cook,
Maangchi
's recipe but made a combination of her spicy and not so spicy versions, including some lean beef stew meat and substituting dried shiitake for fresh white mushrooms, since that was what I had.
1 cup tube shaped rice cake for ddukbokkie
1/2 lb stew beef
2 tbs soy sauce
1 tbs sugar
2 cloves minced garlic
3 tbs of sliced onion
3-4 sliced white mushrooms or 3 dried shiitake - your preference
2-3 tablespoons red pepper paste (kochujang) or more, depending on your taste
1 tbs of hot pepper flakes (optional)
2 stalks green onion chopped into 2 inch lengths
4 cups water
dried anchovies
Directions:
Separate the tubes of rice cake into individual pieces, rinse.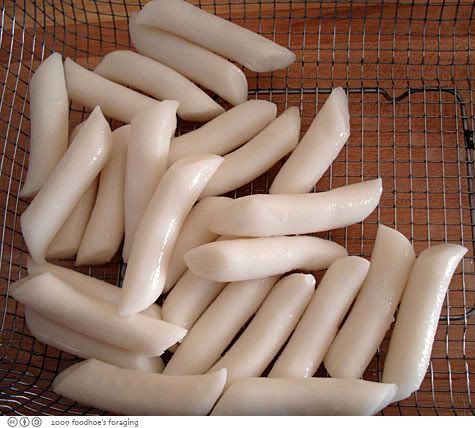 In a pan, pour 4 cups of water and add 7 large dried anchovies after removing their heads and intestines inside of a metal strainer and throw in the dried shiitake if you are using those. Boil the water for about 20 minutes over medium heat. After about 10 minutes, I pulled the shiitake out and cut them into smaller pieces and threw them back into the stock to fully reconstitute.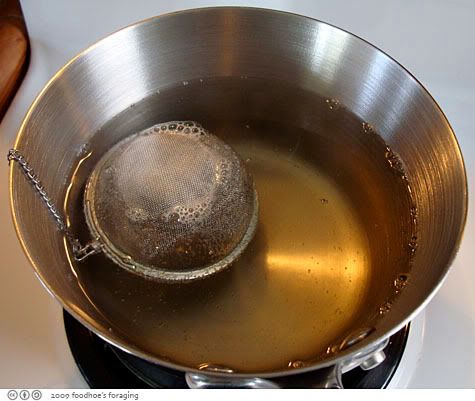 In a separate saucepan, saute stew beef with soy sauce, sugar, garlic, and sliced onion.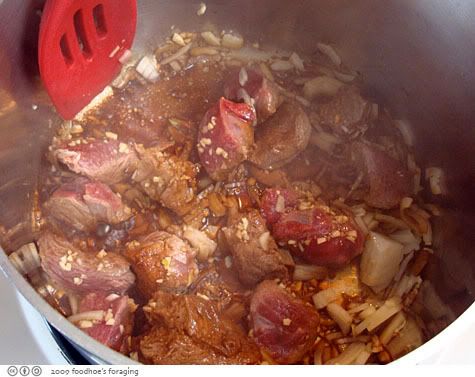 Remove the anchovies and add liquid to the saucepan with the beef. Simmer until meat is tender (this can take a while especially if you are using stew meat - it took over an hour, so I added water to the pot as it cooked down. Once your meat is ready, stir in the fresh mushrooms if you're using those, along with 2 green onions chopped to 2 inch lengths. Add the rice cakes, hot pepper paste and 1 tbs of hot pepper flakes (optional), stirring constantly.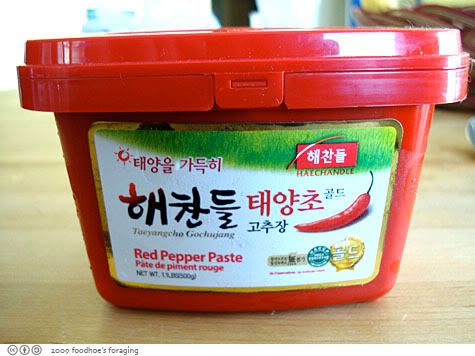 Keep stirring until the sauce has thickened and the rice cake is shiny and softened. Transfer it to a plate and serve! It's delicious and I want to try making it with noodles and fishcakes as in this recipe at
Peter's Home Cooking Diary
next time!
p.s. I had some leftover and put it in a tupperware, which I don't recommend. The rice sticks had absorbed a lot of the liquid and were squishy and loose - very unappetising.