I made the shrimp curry and cucumber raita (recipe below) and steamed chard sprinkled with lemon juice.
From Madhur Jaffrey's Flavors of India
When I arrive in Goa, the first dish I order is this simple prawn (shrimp) curry! It uses no oil as nothing in it requires frying or sauteeing. In many ways, it is the humbles of currries and may be made with very cheap fish cut into chunks, fish steaks or fillet pieces.
I like it made with juicy prawns (shrimp), fresh from the sea. With a spicy red, coconutty sauce flowing over a bed of white, pearly rice - what else can one want? I rarely order this dish in the hotel that I stay in. I find a small beach shack ocvered with palm thatching, generally owned by real fishermen, and order it there. All I need with it is a cold blass of beer.
If you buy unpeeled, headless prawns (shrimp) you will need 1.5 lb (65 g). Peel and devein them, then wash them and pat them dry.
Ingredients
1 tsp cayenne pepper
1 tblsp bright red paprika
1/2 tsp ground turmeric
4 garlic cloves, peeled and crushed to a pulp
1 (1-inch) (2.5 cm) piece of fresh ginger root, peeled and grated to a pulp
2 tblsp. coriander seeds
1 tsp cumin seeds
1 (14 oz) (397g) can coconut milk, well stirred (I used one of those small cans, 6.5 oz - it was very good, not so rich and fatty)
3/4 tsp salt or to taste
3 pieces of kokum or 1 tbl tamarind paste
1 lb (450 g) peeled and deveined, medium-sized uncooked prawns (shrimp)
In a bowl, combine 1-1/4 cups water with the cayenne pepper, paprika, turmeric, garlic and ginger. Mix well. Grind the coriander seeds and cumin seeds in a clean coffee grinder and add to mixture.
Put the spice mixture into a pan and bring to a simmer. Turn the heat to medium-low and simmer for 10 minutes. The sauce should reduce and thicken. Add the coconut milk, salt, kokum or tamarind paste, and bring to a simmer. Add the prawns (shrimp) and simmer, stirring now and then, until they turn opaque and are just cooked through.
I couldn't find tamarind paste at the market, but got this large box instead for $1.50.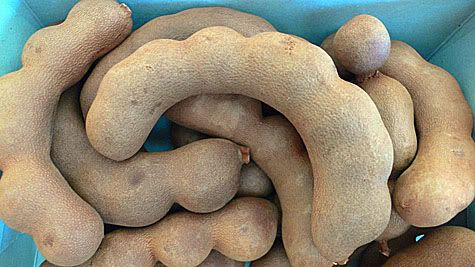 Cucumber Raita
1 cucumber
1 cup plain yogurt
1/2 tsp salt or to taste
2 tblsp. finely chopped, fresh mint leaves
1 clove garlic, finely minced
Peel the cucumber, cut in half lengthwise, scrape out the seeds with a spoon and thinly slice the remaining flesh.
Let the cucumber sit in a strainer to drain. Squeeze out as much moisture as you can. Set aside.
Put yogurt in a bowl. Beat lightly with a fork or whisk until it is smooth and creamy. Add the salt and garlic and mix well. Add the fresh mint and cucumber. Stir to mix, making sure all the cucumber slices are well separated.