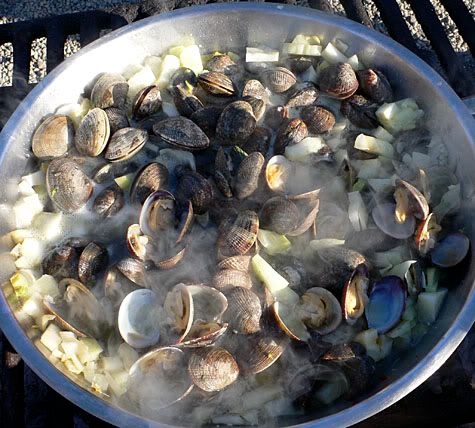 These pictures are from a lovely
feast
we recently enjoyed at the Hog Island Oyster Farm in Tomales Bay.
Hog Island clams served in a bowl of fragrant broth. Great with sourdough bread, more beer and big napkins. Luc Chamberland, manager of the Hog Island Oyster Bar, recommends making his recipe with Mendocino Brewing Company Red Tail Ale or Blue Heron Pale Ale.
I have modified the recipe to cut down on the amount of butter... You can get the full fatted
recipe from their website
1 beer (one 12 oz. bottle)
1/2 stick (4 tblsp) unsalted butter
1 bulb of fresh fennel root, coarsely chopped
1 splash of extra virgin olive oil
1 pinch of sea salt, or to taste
2 pounds of Hog Island Manila Clams
Pour beer into a Dutch oven or large covered pot. Bring beer to a simmer over medium heat. Add butter, olive oil, salt and pepper. Add chopped fennel root. Let ingredients simmer for a few minutes. Rinse the clams in fresh water and add to the pot. Heat until clams open, ladle into large bowls and serve!
I have halved the recipe in approximately half and reduced the butter by a lot. I also added a couple cloves of garlic squeezed through the garlic press and found it to be greatly improved by the addition of fresh squeezed lemon juice and freshly ground black pepper. The fennel also needed to be cooked longer as it was still kind of crunchy, so I would also let the ingredients simmer for a few more minutes before adding the clams...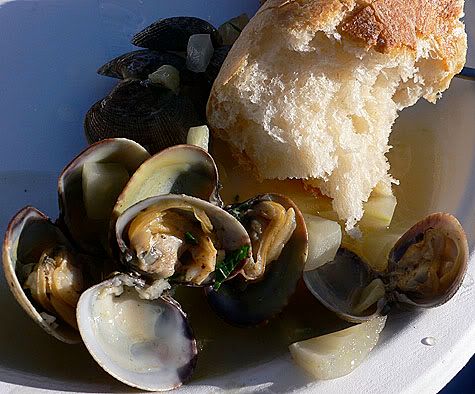 It was especially delicious with the bbq'd oyster recipe from the same
site
that we enjoyed on a recent visit.