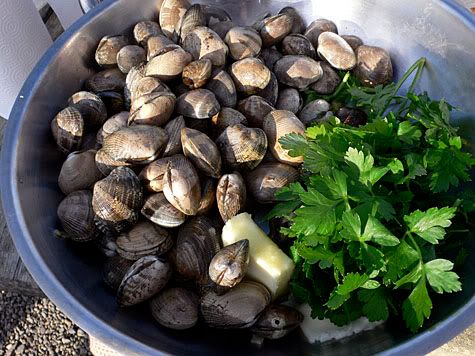 We perfected this cooking technique over the bbq at another visit to the
Hog Island Oyster Farm
in Point Reyes.
1/4 stick butter
3 tablespoons olive oil
3 cloves garlic, squeezed through a garlic press
1 cup dry white wine
1/4 bunch of parsley
salt and fresh black pepper to taste
2-4 lbs manila clams
fresh lemon juice
Melt butter on medium heat in a 3 quart saute pan. Add olive oil, garlic, stirring quickly for a minute. Slowly pour in the wine, then toss in the clams and parsley, mixing well then cover. Let cook for a couple of minutes. The clams are done when all of the shells are opened, should only take a few minutes.
Squeeze fresh lemon juice over all. Delicious served with a baguette to dunk into the broth.