One of my favorite recipes from Ana Mandara Restaurant 891 Beach St. (at Polk Street) SF; (415) 771-6800
---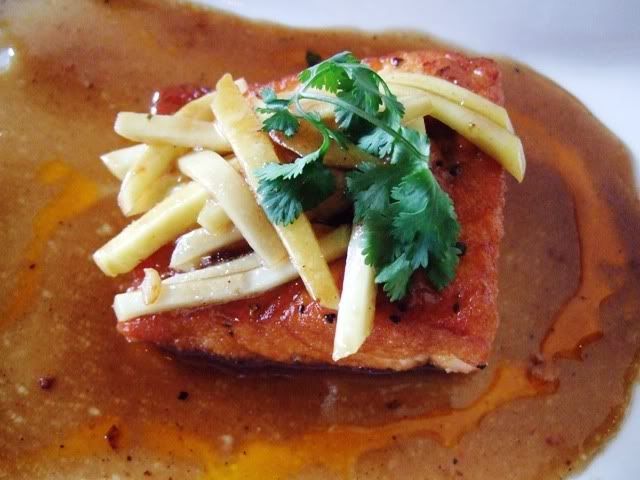 Yields about 1 3/4 cups
Ingredients:
1/2 package tamarind pulp (about 7 ounces), cut into 1/2-inch pieces
2 cups water
3 tablespoons sugar
1 tablespoon sambal oelek (ground fresh red chile paste)
4 tablespoons fish sauce
Instructions for the sauce:
Instructions: Combine tamarind and water in a saucepan. Bring to boil, reduce heat and simmer for about 8 minutes. Strain through a fine mesh sieve, pressing pulp to extract tamarind liquid into a bowl. You should have about 1 1/2 cups tamarind liquid. Add sugar, sambal oelek and fish sauce. Stir until smooth.

---

Crispy Skin Salmon
Serves 4


Chinese chives have long, slender flat blades and are normally dark green in color. Also called garlic chives, they have a hint of garlic flavor. When grown under cover without light, Chinese chives are light yellow color or a shade of "gold," which symbolizes gold or wealth in Asia.

Ingredients:

1 pound salmon fillet, about 1 1/2 inches thick
Salt and pepper to taste
2 to 3 tablespoons vegetable oil
1 teaspoon minced garlic
2 cups of 3-inch long strips of yellow chives or leeks
2 tablespoons balsamic vinegar
A few swirls of Tamarind Sauce (see Recipe)
A few sprigs of cilantro




Instructions for Salmon:




Preheat oven to 375°. Cut salmon into 4 equal pieces that are approximately 1 1/2 inches thick. Season with salt and pepper. Heat a cast-iron skillet over medium-high heat. Add 1-2 tablespoons vegetable oil. Add salmon fillets skin-side down and sear until skin is crisp, about 2 minutes. Turn and sear for 1 minute. Continue to sear all four remaining sides for about 30 seconds on each side. Put salmon skin-side down in skillet. Bake for 10 minutes.


Meanwhile, heat a small skillet over medium heat. Add 1 tablespoon oil. Add the garlic and saute until golden brown. Add the chives and saute until they begin to wilt. Add the vinegar and season with salt and pepper. Reduce to a light glaze, about 3-5 minutes. Arrange chives on center of a plate, place salmon on top. Swirl tamarind sauce around perimeter of plate. Garnish with cilantro.




Per serving: 310 calories, 25 g protein, 14 g carbohydrate, 17 g fat (2 g saturated), 70 mg cholesterol, 277 mg sodium, 1 g fiber.


---