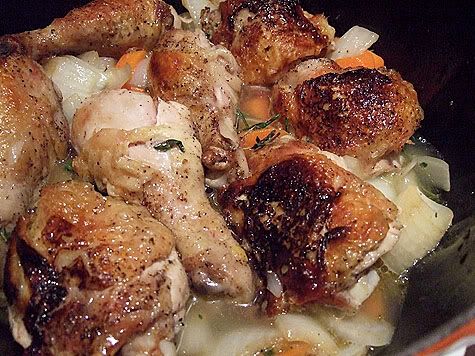 Season the day before if possible:

4 chicken legs
with Salt and fresh-ground black pepper

Heat a heavy-bottomed pan over medium heat. Add:

2 tbl olive oil

Place the chicken legs into the pan skin side down and cook until crisp and brown, about 12 minutes. Turn and cook for another 4 minutes. Remove the chicken and add:

2 onions, sliced thick (or diced large)

Cook until translucent, about 5 minutes. Add and cook for 2 minutes:

4 garlic cloves, sliced thin
1 bay leaf
1 small rosemary sprig

Arrange the chicken in the pan, skin side up, and pour in any juices that have collected. Pour in:

1 cup chicken broth

The liquid should reach halfway up the chicken; add more if needed.

Bring to a boil and then turn down to a simmer. cover and cook at a bare simmer or in a 325F oven for 45 minutes. When done, pour the braising liquid into a small bowl and skim the fat. Discard the bay leaf and rosemary. Taste for salt adn adjust as needed. Return to the pan and serve.


Garnish with lemon zest and chopped fresh herbs and a squeeze of fresh lemon juice.