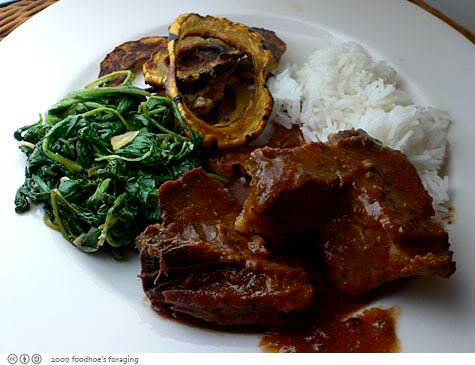 from the Art of Simple Cooking, Alice Waters
Make a dry rub by mixing together:
1 tblsp salt
1/4 tsp fresh ground black pepper
1 tblsp choped fresh marjoram or oregano
1 tsp ground ancho chili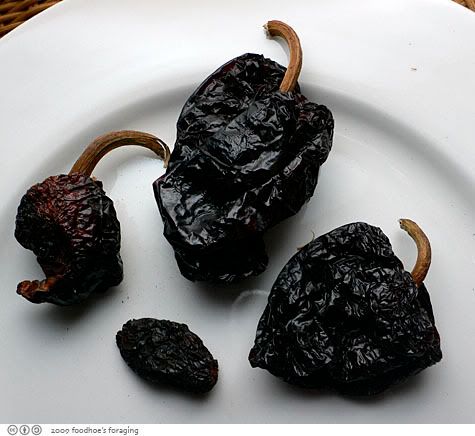 Use the dry rub to season, the day before if possible:
One 4-lb., bone in pork shoulder roast, trimmed of excess fat

Cover and refrigerate until 1 hour before cooking. Put in a heavy baking dish or roasting pan that just fits the roast:
2 onions, peeled and coarsely chopped
1 carrot, peeled, anc coarsely chopped
3 dried ancho chiles, split and seeds removed
1 dried chipotle chile, split and seeds removed
1 large head of garlic, peeled and coarsely chopped.
A few black peppercorns
A few fresh marjoram or oregano sprigs.

Preheat the oven to 375 F. Place the seasoned meat on top of the vegetables and pour in:
2 cups chicken broth (or water)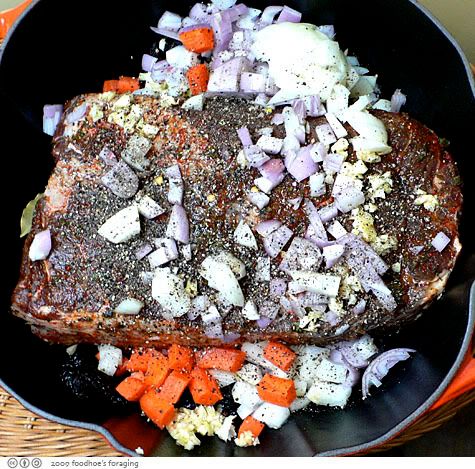 Check the level of the liquid; it should reach about one quarter of the way up the roast. Add more if needed. Cook in the oven for 1 hour and 15 minutes. Turn the roast over and cook for 30 minuts, then turn again. Check the level of liquid every once in a while, adding more broth or water if it gets too low. Cook for another 30 mintuest and test the meat for doneness, continuing to turn and cook until done. Remove the meat from the pan. Strain the sauce and skim well. ass the vegetables through a food mill and return to the skimmed sauce. Remove the bones, slice the meat, and arrange on a warm platter. Serve with the sauce poured over or pass it around in a pitcher or sauceboat.
Variations:
Use any combination of dried chile varieties
Sprinkle with chopped fresh marjoram or oregano before serving.
Pound 4 garlic cloves and stir into the dry rub with 2 tsp olive oil. Rub this on the roast to season.