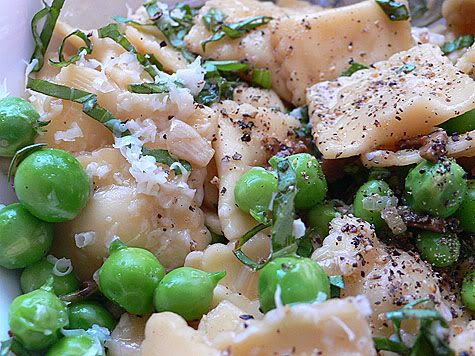 I keep reading about peas which seem to be in season. I also love how they look in the pod, but my photographic skills were not able to capture that kodak moment with the pod cracked open and the peas all nestled in snugly... So here are peas that were blanched for a couple of minutes and starting to shrivel...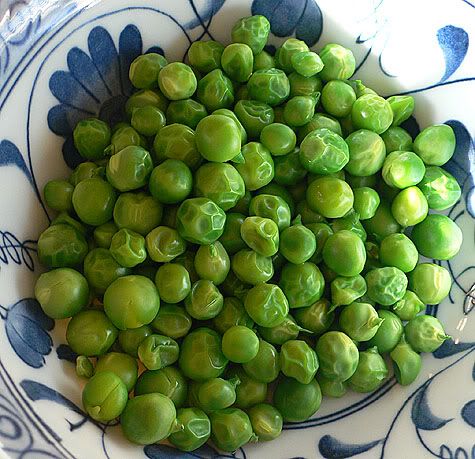 I also have some basil growing very nicely in the garden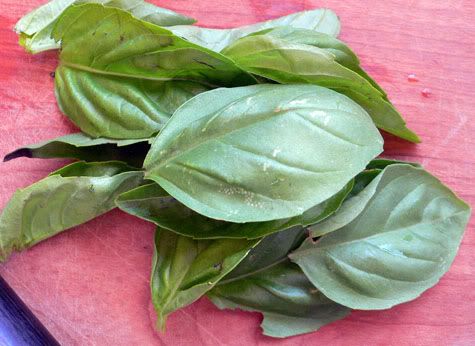 2 shallots minced
1 clove garlic minced
2 tablespoons olive oil
1-1/2 cup chicken stock
1 oz dried porcini mushroom
10 leaves of basil shredded
1 cup shelled peas
1 package fresh ravioli
parmesan cheese for grating on top
salt and black pepper
fresh lemon
Heat the olive oil in a 3 quart saute on low and mix in the shallots and garlic. Cook on low, stirring occasionally for 5 minutes until the shallots are soft and translucent.
At the same time, heat the stock in a sauce pan with the porcini mushrooms until they soften. Remove the mushrooms and chop up and return to pan and continue to heat for 10 minutes until mushrooms are completely reconstituted.
Stir stock into the saute pan and keep temperature on low, barely simmering.
Heat a big pot of boiling water and blanch the peas for 2 minutes. Remove from water and rinse in cold water. In the same pot, cook ravioli according to instructions on package, drain. Toss the shredded basil, peas and ravioli into the saute pan and mix well. Adjust seasonings and you are ready to serve.
Top with grated parmesan, black pepper and a squirt of lemon juice if desired.
I also steamed the green beans from the organic veggie box I started receiving this week. They were so tender and sweet! We ate them plain, with a squeeze of fresh lemon juice.