I went to the Ferry building and bought some beautiful frenched pork chops from Sonoma. The counterperson said that the bones are like an attached baby back rib on each chop.
For 4 pork chops (10 to 11z each and 1-1/4" thick), or 2 tenderloins (about 1 pound each)
A few crumbled bay leaves, dried
chiles
, and crushed juniper berries (optional)
5 cups room temp. water
6
Tbl
sugar
3
Tbl
salt (a little more if using kosher salt)
We have a juniper bush in the front yard that I picked some berries out of.

If using aromatics, place them in a small pot with about 1 cup of the water. Bring to a simmer, stirring and crushing with a wooden spoon, to encourage them to release their flavors. Remove from heat and leave to infuse for about 10 minutes. Combine the remainder of the water, the aromatic mixture, if using, sugar and salt in a deep bowl or 3 quart plastic storage container. Rinse meat and pat dry. Place in the brine and use a plate to keep the meat submerged. Cover and refrigerate 2 to 4 days.
A couple of hours before cooking, remove the pork from the brine. Rub and massage the meat as you rinse it thoroughly under cold running water. Press between dry paper towels. Refrigerate until about 15 minutes before cooking.
Brush pork with olive oil and grill over medium coals, or cook in a heavy skillet with a film or olive oil over medium heat. Move the chops or adjust the heat if the sugar threatens to burn, and turn at least three times as they cook. Cold chops should take about 18 minutes to cook. They will hold well for another 10 minutes in a warm, protected spot.
I added a cup of apple cider vinegar and smashed a couple of garlic cloves to the brine, and then before cooking I rubbed the chops with olive oil and then with a spice rub for ribs from Williams-Sonoma.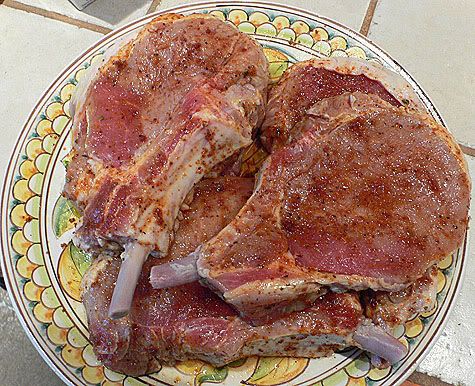 Then we grilled them for 6 minutes on medium heat, then 5 minutes, then 3 minutes and let them sit for 5 minutes.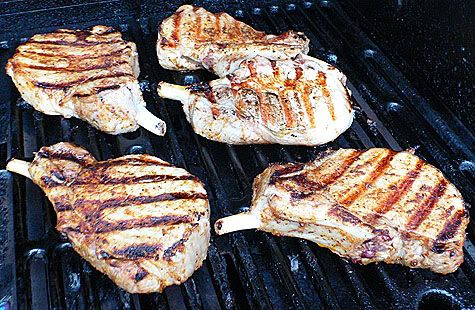 They were cooked just about right.
I served them with
Sugar Snap Peas with Sesame
from the Barefoot Contessa Cookbook.
The recipe is so easy, I blanched the peas for 2 minutes, drained them and then tossed with 1 tblsp of sesame oil and 1/2 tsp salt, then sprinkled in some black sesame seeds.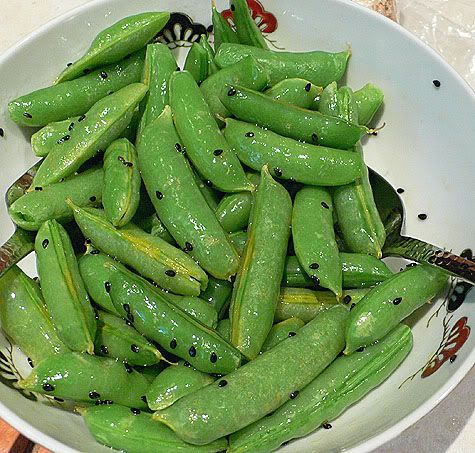 We also had
Caesar Salad
from the same
Zuni Cafe Cookbook
, which is light and lemony and threw in some Semifreddi's Garlic croutons.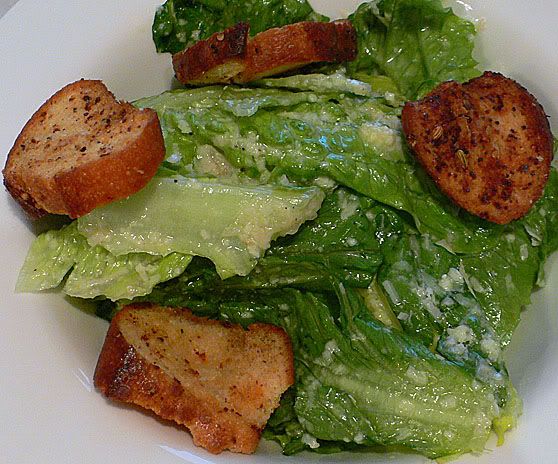 As usual, by the time we got to eating, I forgot to take a picture of the plate... It was very good too. I made mashed potatoes using chicken stock and yogurt butter, which is light and fluffy and yummy too.