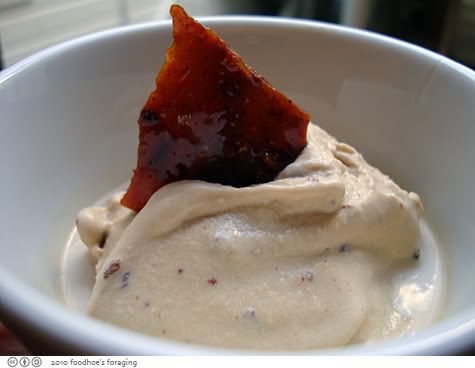 Recipe from Caroline Fey @
Mariposa Kitchen
. Makes 1 quart
Ingredients:
Ice Cream
2 cups heav cream
1 cup whole milk
1 cup pure maple syrup
1/8 tsp salt
6 large egg holks
1/2 tsp maple extract
1/2 cup bacon bits
Bacon Brittle
1 cup water
1 cup sugar
1/2 cup bacon bits
Preparation
:
Ice Cream
: In a heavy saucepan bring the cream, milk, maple syrup, extract and salt to just a boil, stirring occasionally. In a bowl, beat the yolks until smooth. Add the hot cream mixture to yolks in a slow stream, constantly whisking, then pour the whole mixture back into the saucepan. cook over moderately low heat, stirring consistently until the custard coats the back of a wooden spoon. Turn off the hat and immediately pour through a strainer into a small metal bowl. Cover the surface with plastic wrap and chill until it's cold.
Freeze in an ice cream maker. When the ice cream is the consistency of soft serve, remove from maker and stir in bacon bits. Freeze until hard.
Bacon Brittle
: Line a sheet tray with parchment paper. Heat the water and sugar in a small saucepan over high heat until the sugar dissolves. Do not stir. Once the sugar begins to turn a shade of amber, start to swirl it until it is medium amber brown. Stir in the bacon bits and immediately pour it onto the parchment paper. Let it cool, then break it into pieces.