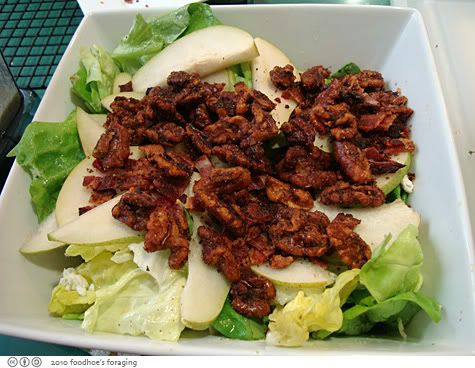 Recipe from Caroline Fey @
Mariposa Kitchen
. Serves 8
Ingredients:
1 head butter lettuce, torn into bite-size pieces
1 D'Anjou pear, sliced
2 strips of peppered bacon, cooked and chopped into pieces
1/2 cup candied walnuts
Dressing:
1 clove garlic
1 teaspoon thyme leaves
1 small shallot
1/4 cup crumbled gorgonzola
1/4 cup apple cider vinegar
1/2 cup olive oil
1 teaspoon salt
1 teaspoon ground pepper
Prepareation:
Put all of the salad dressing ingredients in a blender and blend well.
Toss the greens with half the dressing, then add the walnuts, bacon and pear slices. Taste. If the salad needs more dressing, add a little bit at a time. Gently toss one more time and serve.