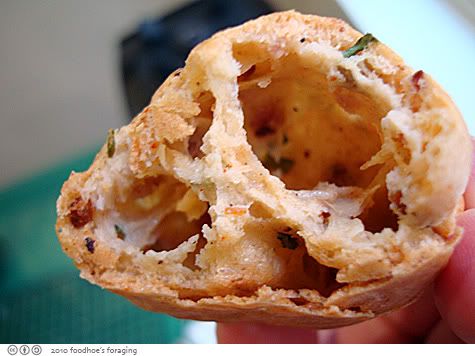 Recipe from Caroline Fey @
Mariposa Kitchen
. Makes 24 pieces
1 cup water
3 tablespoons butter, diced
3/4 teaspoons salt
1 cup unbleached flour
4 eggs, chilled plus 1 egg for egg wash
1 cup grated cheddar cheese (about 4 0z)
1/4 cup bacon, finely chopped
2 teaspoons chives, finely chopped
1/4 teaspoon paprika
Pinch of smoked paprika
Preparation:
Preheat the oven to 400F. Position one rack in the top third and one rack in the bottom third of the oven. Line two baking sheets with parchment paper.
Bring the water, butter and salt to a boil in a heavy, medium saucepan, over medium heat until the butter melts. Add the flour and stir rapidly with a wooden spoon until the flour mixture forms a ball, pulling away from the sides of the pan. Keep cooking the mixture for a minute or two longer. There will be a light brown crust on the bottom and sides of the pan.
Remove from heat and scrape the mixture into the bowl of the electric mixer. Beat on medium speed for about two minutes to cool the mixturedown. Add the eggs, one at a time. Make sure that each egg is fully incorporated before adding the next one. You may not need all of the eggs.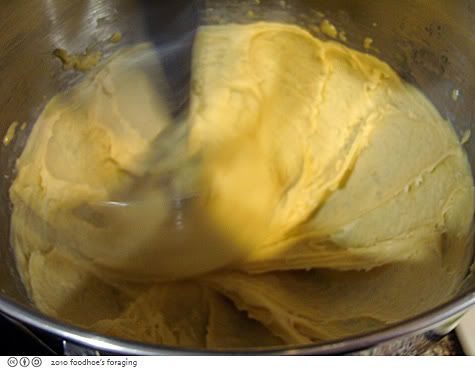 Test the batter by pulling your finger through the batter. If a well forms and then slowly closes, it's perfect. Then add the cheese, bacon, chives and paprika and blend to combine.
Fill a piping bag fitted with a size 6 piping tip with the dough. Using a little bit of dough as glue, pipe a teaspoon at each corner of the baking sheet. Press the parchment into the dough to "glue" it down. Pipe quarter size balls, about 3 inches apart, onto the baking sheet.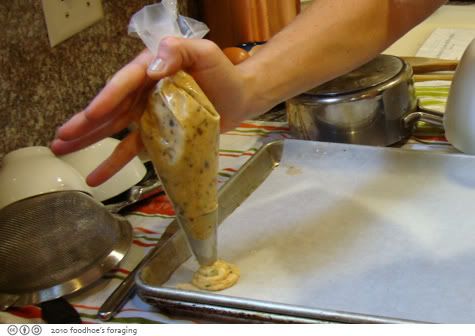 Or, using a wet spoon, drop tablespoons of dough onto baking sheets, about 3 inches apart.
Crack the extra egg into a bowl with a pinch of salt and, using a pastry brush, brush the tops of the dough with a little egg wash. Bake gougeres until golden brown, about 30 minutes, reversing the pans half way through baking.
Serve hot or warm.