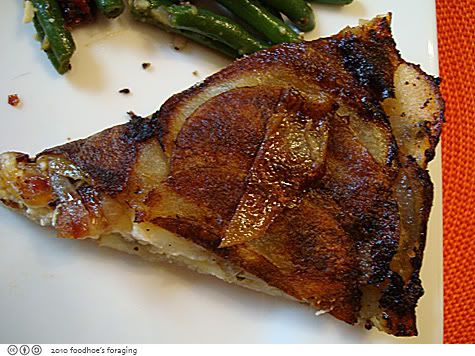 Recipe from Caroline Fey @
Mariposa Kitchen
. Serves 8
Ingredients
:
1/2 cup bacon, cooked and roughly chopped
1/2 cup goat cheese, crumbled
1 cup parmesan cheese grated
1/2 cup sweet onions, very thinly sliced
2 russet potatoes, scrubbed and very thinly sliced on a mandolin
2 cloves garlic minced
1 tablespoon thyme leaves
1/2 cup (1 stick) butter, melted
2 teaspoons salt
2 teaspoon pepper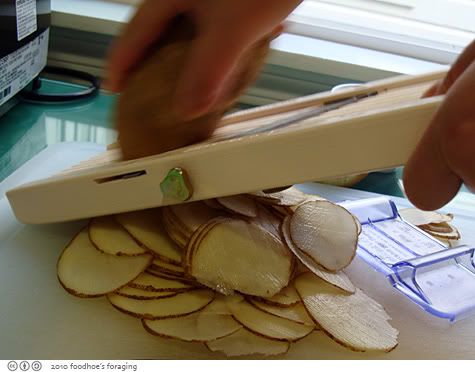 Preparation
:
Preheat oven to 375 F. Brush a nonstick saute pan with a generous amount of melted butter. Mix the remaining melted butter, garlic, thyme, salt and pepper with the potatoes and toss gently.
Arrange one layer of potato slices in the bottom of the pan, overlapping each slice by about half, like fish scales. Top the potato layer with half of the bacon, onions and cheeses. Repeat with the potatoes, the filling and end with a third layer of potatoes. Press the top layer with your hands to compress the ingredients.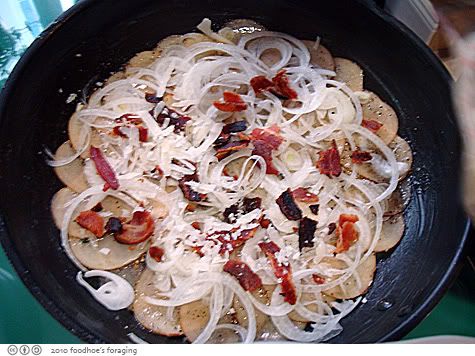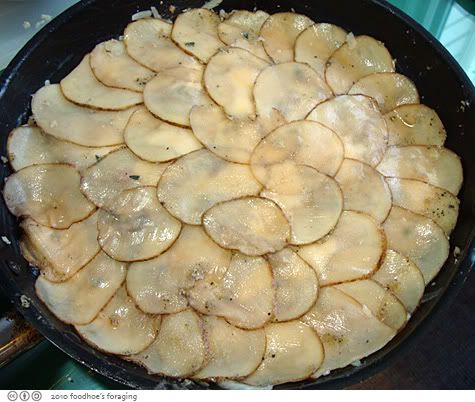 Cook the galette on top of the stove for about 15 to 20 minutes on medium heat until the potatoes are crispy on the bottom and the sides begin to pull away. Using a baking sheet, flip the galette out of the pan. Slide it back in the pan on the uncooked potato side and cook for another 15 minutes, until the potatoes are brown and crispy.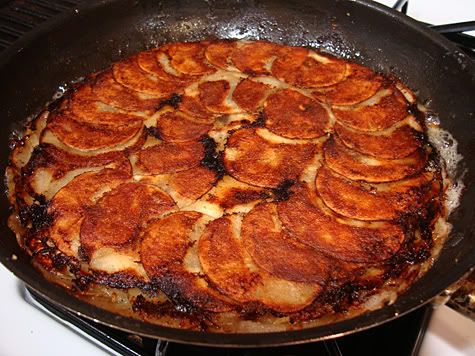 Put the pan in the oven to finish cooking for about 10 minutes or until you can easily slide a knife into the wedge. Let it rest for a few minutes. Invert the galette onto a plate and cut into wedges. Serve hot.