Another great dish from Ruta Kahate's cookbook 5 spices, 50 dishes. Serve it either as an appetizer or as a main course with French bread to soak up all the delicious juices. This dish is so colorful on its own, that it doesn't even need a garnish.
Ingredients
12 jumbo or 8 oz large tiger shrimp
1/2 lemon, juiced
2 cloves garlic, minced
3 tablespoons canola oil, divided
1 tablespoon finely chopped cilantro leaves
1/2 teaspoon cayenne
1/2 teaspoon ground turmeric
salt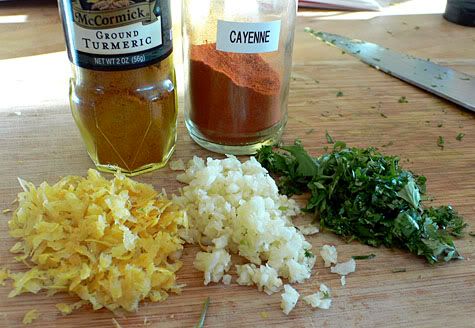 Instructions
:
Clean and shell the shrimp, leaving the tails on. Rinse. In a shallow bowl, combine the lemon juice, garlic, 1 tablspoon of the oil, the cilantro, cayenne, turmaric, and salt. (Some frozen shrimp are salted, so remember to take that into account.) Stir well and taste -- the marinade should be tangy and spicy. Add the shrimp and toss to coat evenly with the marinade.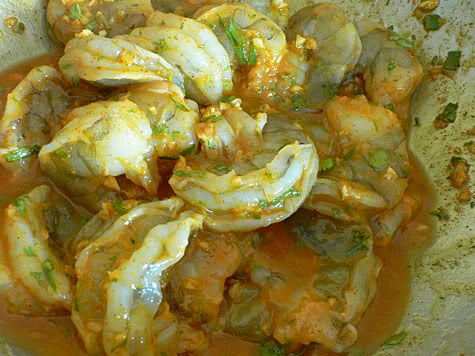 Note: You can also barbecue the shrimp. Use wooden skewers that have been soaked in water for half an hour. Skewer the shrimp draining and reserving the marinade, and barbecue them over high heat until just cooked. Baste with the marinade occasionally.
Heat a large skillet on high heat and add the remaining 2 tablepsoons oil. Whe the oil is smoking, add the shrimp and marinade to the pan. Leave the heat on high. Toss the shrimp several times. Cover the pan while the shrimp cook so all the marinade doesn't evaporate. When the shrimp are just pink, about 5 minutes, remove and arrange them on a platter, pouring any remaining juices over. Do not overcook.
Serve hot or at room remperature. I love this dish served with
Spinach Raita with Toasted Cumin Seed
from the same cookbook.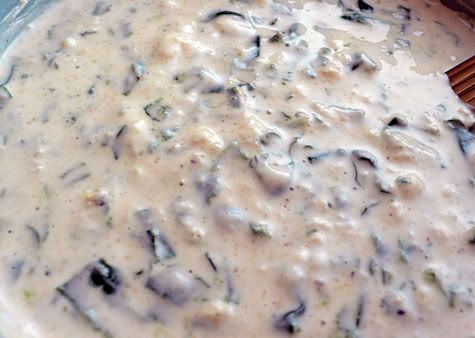 We served it with steamed asparagus, steamed jasmine rice and a little bit of chili garlic sauce. Highly recommended!