Mr. K had a delicious curry fried rice in mind to go with the
freshly steamed crab
. We enjoyed the fresh crab scattered over the fried rice, along with some steamed broccoli and sliced avocado. The combination of flavors went together very well, especially with a nice scoop of spicy chili garlic sauce...
Our pantry only had a leek and some green garlic and some carrots, so we swapped that out for the onion and garlic... the recipe is flexible, the spices are the key ingredients!

Ingredients
For the Curry:
1 Tbsp. canola oil
1 small yellow onion, minced (about 1 cup)
1 tsp. coriander seeds, finely ground
1/2 tsp. mustard seeds, finely ground
½ tsp. finely grated garlic (about 1 large clove)
½ tsp. finely grated fresh ginger (a 1-inch piece)
½ tsp. ground turmeric
½ tsp. cayenne
½ tsp. cumin seeds, finely ground


salt
fresh cracked black papper
2 tablespoons coarsely chopped flat-leaf parsley, for garnish. We added some lemon zest and minced shallots.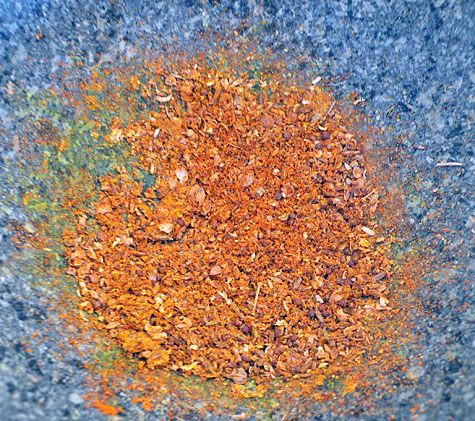 Pulverize the dry spices in the primitive stone mortar Molcajete
The fragrance from the spices sizzling with the aromatic vegetables was incredible.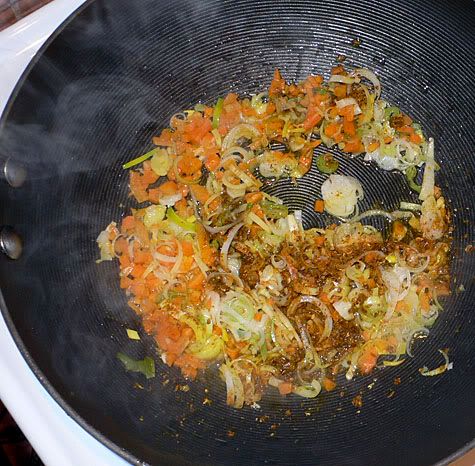 1. Set a medium (3 quart) saute pan over medium heat with the oil in a pan. Keep a spatter screen or lid handy - cumin and mustard seeds will sputter and pop wildly.
2. When the oil just begins to smoke, add the spice(s). Cover and allow the spice(s) to cook - this literally takes seconds. As soon as the sputting stops, it's ready.
3. Immediately add the vegetables and rice to the pan - this cools the oil and prevents the spices from burning.
4. Stir well to blend the rice and spice mixture together.

5. Fluff the rice with a fork and sprinkle with the chopped parsley mixture.
We just mixed in the freshly cooked crabmeat to preserve its pristinely sweet flavor.