Serves 6
, adapted from Rick Bayless' Mexican Everyday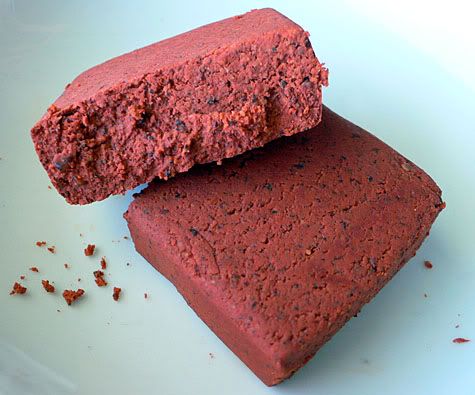 This is Achiote Paste. It is ground annatto seeds mixed with spices, vinegar, salt, garlic, cornmeal that originates from the Yucatan region of Mexico. The red color comes from the annatto seeds which have been used as a dye for fabrics and body paint since pre-Columbian times.
The word
Cochinita
refers to baby pig, the mayan word
pibil
means buried. According to Bayless, this dish typically would be a pit-cooked suckling pig, smeared with the uniquely savory achiote seasoning and served with a drizzle of habanero fireworks and the citrus sour of pickled red onion.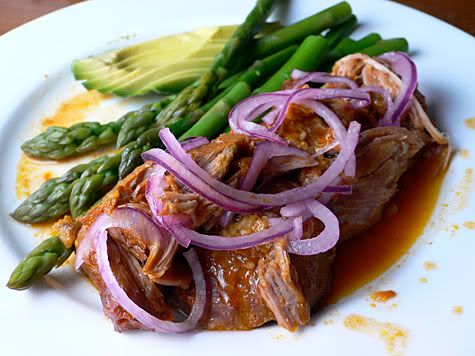 Ingredients
Half a 3.5 ounce package achiote seasoning
3/4 cup fresh lime juice (divided use)
Salt
1 3-pound bone-in pork shoulder roast
1 large white onion, sliced about 1/4 inch thick
1 large red onion, thinly sliced
1about 1/2 cup roasted fresh chile salsa
or bottled habanero hot sauce (such as Yucateco and Frontera brands)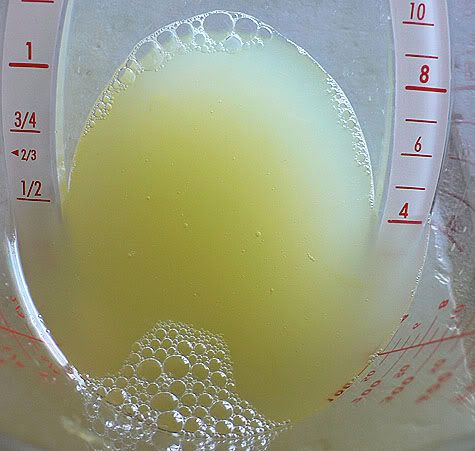 Place the achiote seasoning in a small bowl. Pour in 1/2 cup of the lime juice and 2 teaspoons salt. Then use the back of a spoon to work the mixture into a smooth, thickish marinade.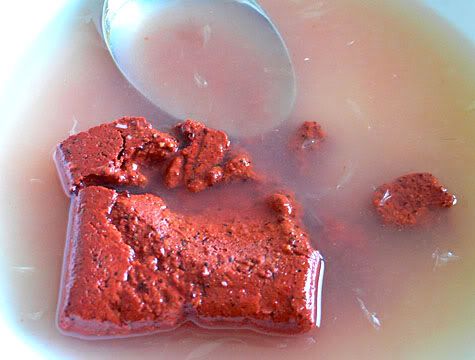 In a large (6 to 8 quart; at least 12 inch diameter) heavy pot, preferably a dutch oven, place the pork and pour the marinade over and around the roast. Scatter the white onion over the meat, dribbling the water around the meat.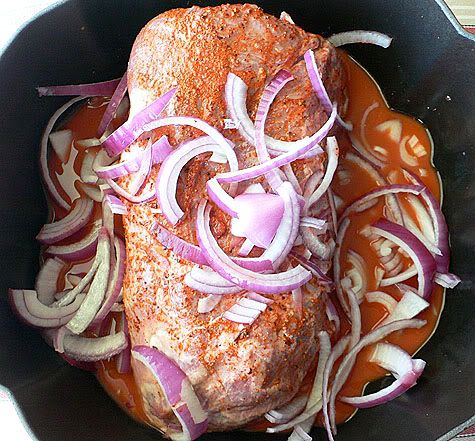 Set the lid in place and braise in a 300 degree oven for about 2-1/2 hours to 3 hours until the pork is thoroughly tender. I used a 4 lb bone in pork shoulder and left the fat on while it cooked. My general rule for this type of roast is to cook it until it falls apart when prodded witha fork. It took more like 3-1/2 to 4 hours.
While the meat is cooking, combine the red onion with the remaining 1/4 cup lime juice in a small bowl. Sprinkle with about 1/2 teaspoon salt, toss and set aside to marinate, stirring from time to time.
Use tongs to transfer the meat (it will easily break into delicious-looking pieces) and onions to dinner plates. Spoon off any rendered fat that's floating in the juices. If there is a lot of brothy sauce -- 2 cups or more -- boil it down to about 1 cup to concentrate the flavors. Taste the sauce and season with salt if you think it needs it, then spoon it over the meat. Top with the lime-marinated red onions, and serve with the salsa or hot sauce -- and plenty of hot tortillas, if that appeals.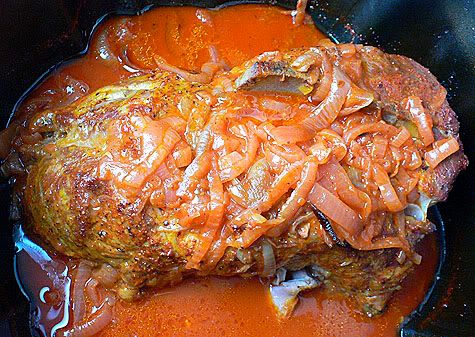 My best results were doing the initial cooking, letting it cool overnight in the fridge, scraping up the layer of fat when it is still solid. Then I cooked it on low on the stove top covered, occasionally skimming off fat for another hour before serving.