I made these delicious
fried abalone filets with macadamia coating
(on the right side). This makes enough for 2 appetizer portions.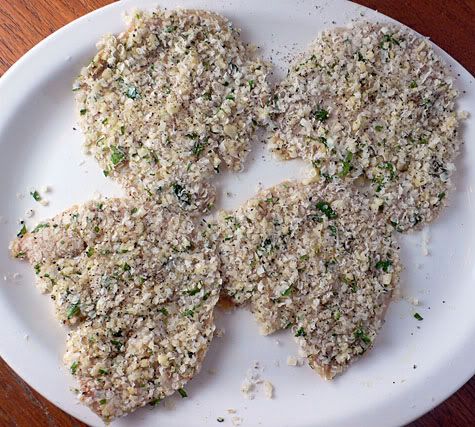 four -1 ounce abalone filets (I ordered them
online from an abalone farm
)
for the egg coating:

2 egg whites
1/2 clove garlic, finely minced or smashed through the garlic press

nut coating
1/2 cup shaved parmesan
1/4 cup raw unsalted macadamia nuts, chopped finely
2 tblspn chopped fresh parsley
salt and pepper to taste

2 cups vegetable oil for frying (or enough to fill the saute pan 1/2 deep)

fresh lemon wedges
Mix the egg whites and garlic in a small bowl. Combine the ingredients for the nut coating in a wide bowl.
Heat the oil in a saute pan on medium heat.
Thoroughly coat the filet in the egg mixture and give it a good shake to remove excess. Place on nut mixture and press down firmly, pick up and turn over, pressing firmly into the mixture. I scooped up some of the mixture and sprinkled over areas that lacked the coating. Shake to remove excess coating.
4. Gently slide into the oil, frying until the coating is golden brown, about 1 minute per side. Remove and place on paper towels to drain. Serve immediately with fresh lemon wedges.