It's better to do this in steps, get the ingredients together, mix the aromatics first, cook the shrimp, and assemble the salad.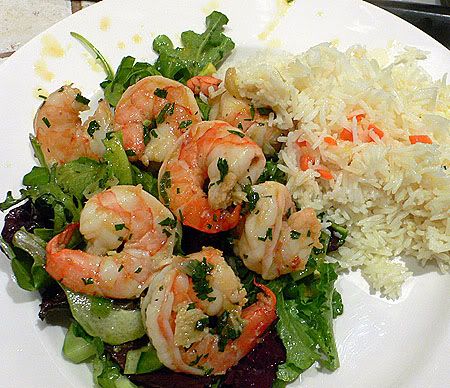 Shrimp
1 lb peeled and deveined shrimp (I got largish ones, 11-12 to a pound)
1 shallot chopped finely (reserve 1/2 tsp for aromatics)
2 cloves garlic smashed and minced (reserve 1/2 tsp for aromatics)
2 Tblsp avocado oil (I just got a bottle and am trying it out, you could also use Olive Oil)
1/4 cup chicken stock
Aromatics
1 chipotle pepper (I used the canned one with a little of the sauce)
3 Tblsp avocado oil
1 Tblsp chopped green onion
3 Tblsp sherry vinegar
1/2 tsp each garlic and shallots
2 Tblsp chopped cilantro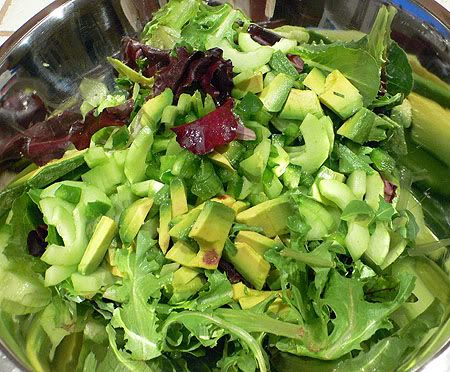 Salad
1/2 avocado, cubed
1/2 cucumber, peeled and seeded, sliced
1/4 bellpepper, peeled, seeded and chopped
3 cups of mixed greens (I used Newman's Own Organics Herb Salad which included tatsoi, chard, mizuna, baby mustard, baby arugula and was crisp and peppery)
Splash of your favorite vinaigrette (I used Girards champagn vinaigrette with an extra splash of lemon)
toss everything together
salt and black pepper to taste
fresh lime juice to finish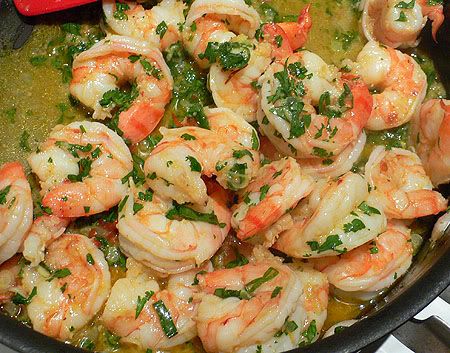 To Cook the Shrimp
Heat the 2 Tblsp Olive in a saute pan on medium, add the shallots and cook until tender (3-5 minutes), lower heat slightly and add the garlic and cook for 2 minutes. Increase heat to med-high, add the shrimp and stock, cook 3 minutes. Lower heat to medium, mix the aromatics in, stirring well until the chipotle melts in and the shrimp are pink, probably another 2-3 minutes. Don't over cook! Add salt and pepper to taste
Get plates, arrange salad on plates, spoon shrimp on salad, squeeze lime juice on top.
Mr K wanted rice with his, so he made his own pilaf.