I love Vietnamese chicken noodle soup. It's so fragrant and flavorful, especially good for this time of the year when it's chilly out and you're feeling run down. This is a quick recipe, something you can make at home that doesn't require boiling an entire chicken for the day...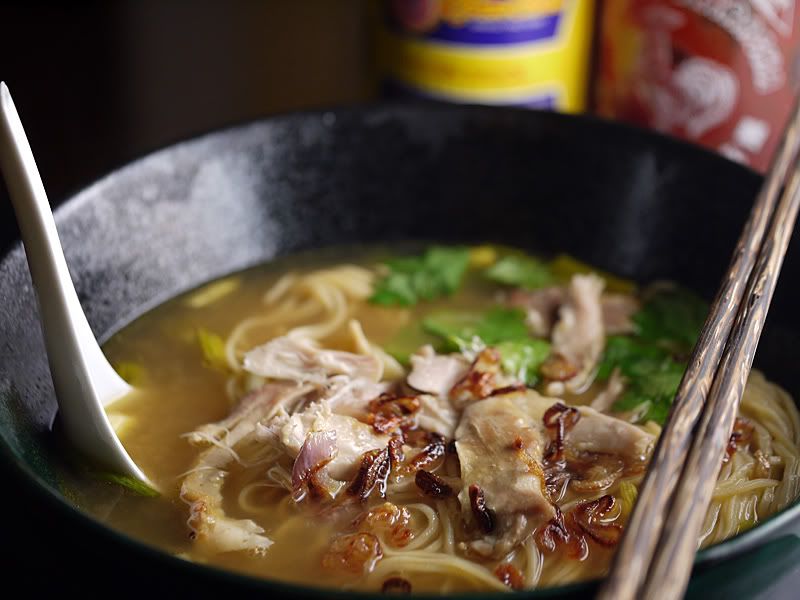 2 quart cartons of Organic Chicken Broth
4 chicken thighs
1 boneless skiness chicken breast (if desired to add to finished bowl, I used meat from the thighs)
1 white onion quartered and peeled
2 3-inch chunks of peeled ginger, cut into 1-inch pieces
2 tbl whole coriander seeds
1 tbl fennel seeds
1 whole clove
3 whole star anise
1 tbl sugar
2 tbl fish sauce or to taste
Cilantro stems
Cheesecloth or you can use a big tea strainer ball for the bouquet garni.
To Serve
1 lb dried rice noodles (I used fresh egg noodles from the chinese market, Mr. K's preferred noodles)
Bean sprouts (it's a nice touch to blanch the bean sprouts in the water you use to cook the noodles in so that they are lightly cooked and warmed)
Cilantro tops
Thinly sliced red onions or shallots, panfried slowly until they caramelize
Lime, cut into 4 wedges
Sliced jalapeno
Sriracha hot sauce
Hoisin sauce
Instructions:
Preheat oven to 450
Place the cut onion, ginger and chicken in a 19 x 13 baking pan. Bake in oven 30 minutes, turning the chicken occasionally, to get an even carmelization. Set aside to cool.
Put chicken broth in a large stockpot and set over a low flame. Prepare a Bouquet Garni by placing the coriander, cloves, star anise and cilantro stems in a cheesecloth sachet, tie with twine and place in the broth (I used a metal tea strainer)
Add roasted chicken thighs (if using meat from the thighs, remove meat at this point to put into the soup for later, or reserve breast meat if using for later) onion and ginger to the pot and cover partially. Turn heat to high – let it come to boil, then immediately turn heat to low. Simmer for 20-30 minutes and adjust seasoning with more fish sauce and/or sugar.
Prepare noodles as per directions on package. Usually this requires cooking for 8-12 minutes in boiling water. Place cooked noodles in a bowl and ladle with broth, shredded chicken meat. Serve with the following at the table: bean sprouts, fresh herbs (cilantro tops, basil or mint leaves), caramelized red onions or shallots, lime, sliced jalapeno, Sriracha hot sauce and Hoisin sauce. I say that the caramelized onions are mandatory, because it's just not the same without them.