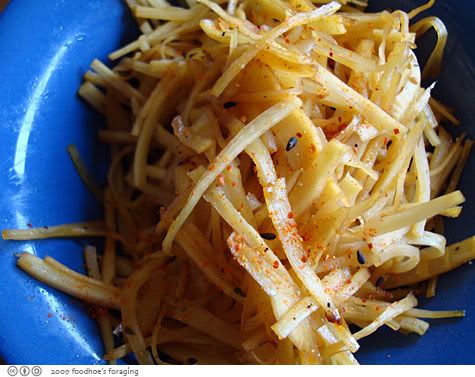 from Elizabeth Andoh's cookbook,
Washoku: Recipes from the Japanese Home Kitchen
I made this as part of my
new years feast to celebrate 2010

Serves 4
2 or 3 parsnips, about 7 oz total weight
1/2 teaspoon sesame oil
1 teaspoon sake
1/2 teaspoon sugar
2 tablespoons soy sauce
pinch of shichimi togarashi
White Sesame seeds, freshly dry-roasted for garnish (optional)
To free the parsnips of dirt or other gritty material, scrub them with the rough side of a kitchen sponge or scrape them with the back of your knife. The peel, however, is is nutritious and tasty and should not be stripped away. Slice the parsnips into narrow julienne strips about 1-1/4 inches long. You should have about 1-1/2 cups strips. spread them out on a towel to dry.
In a nonstick skillet, heat the sesame oil over high heat. Add the parsnips and stir-fry for 1 minute, stirring constantly. add the sake and stir fry for 1 minute. Add the sugar and cook, stirring occasionally, for 3 to 4 minutes more, or until the parsnips are lightly caramelized. Add the soy sauce and continue to cook and stir for 1 or 2 minutes, or until the liquid is nearly gone, and the parsnips are just tender and well glazed.
Sprinkle with shichimi togarashi and toss to distribute well. Remove the pan from the heat and let the parsnips cool to room temperature.
Mound in small bowls as individual portions, or serve in a single bowl, family style, and garnishw with the sesame seeds. If desired. Store leftovers in a glass jar in the refrigerator for up to 3 days.