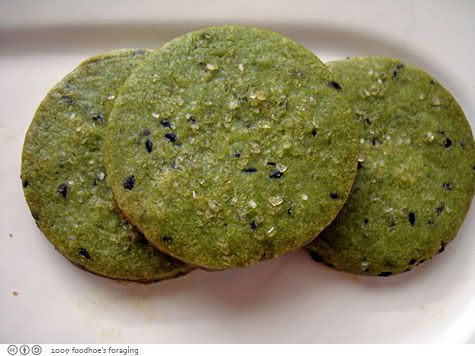 I was inspired by Foodgal's
Ghoulish Green Cookies
, which were chubby squares dusted with powdered sugar, but sounded so very interesting. I did a little online research and thought
these
cookies actually looked the best, but I wasn't about to make two different cookie doughs! I ended up adapting this
recipe
from the famous Lovescool blog.
Ingredients
Yield (2" round cookies): Approx 25
3/4 cup (2.25 oz) Confectioners sugar
5 oz Unsalted butter, cut into cubes
1- 3/4 cup (8.5 oz) All-purpose flour
3 Large egg yolks
2 TBS Matcha (powdered green tea)
1/4 cup black sesame seeds

1 cup Granulated sugar (for coating) I used
sugar in the raw
Directions
Preheat the oven to 350F. Line a sheet pan with parchment paper.
Whisk the confectioner's sugar and green tea together in a bowl.
Add the butter and green tea/sugar mixture to the bowl of a stand mixer fitted with the paddle attachment. Mix until smooth and light in color.
Add the flour and mix until well combined.
Add the egg yolks and mix just until the eggs are fully incorporated and a mass forms.
Form the dough into a disk and chill in the refrigerator until firm (about 30 minutes).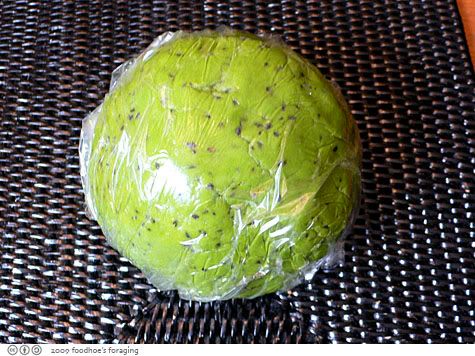 Roll the dough out to ½" thickness.
Cut the dough with a cookie cutter (you can use a juice glass if you want).
Toss each cut cookie in a bowl of granulated sugar to coat.

Place the sugar-coated cookie on a parchment lined pan. Bake at 350F for 12-15 minutes, or until slightly golden around the edges.
You can purchase Matcha (powdered green tea) from Asian grocery stores or specialty tea shops.
Ito-En
or you can order
baking grade matcha
online. The higher quality matcha you use, the brighter green the cookies will be. Store the cookies in a tin or other container that blocks out sunlight to preserve the color because the green color will fade. I used
koichi
that was so expensive that I was loathe to drink it and instead decided to enjoy it in these delicious cookies...