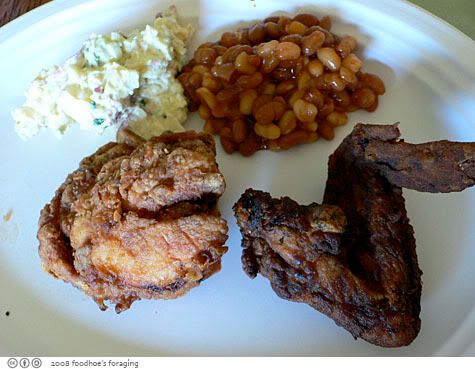 Gourmet | July 2000
We had this over at Mank and CDR's house this weekend, they said their friend Anne found the recipe online at epicurious.com. The recipe seemed pretty simple, and the results were delicious. The best fried chicken! It also doubles as an excellent recipe for kara-age.

Bilko's spice mix is a closely guarded secret, but Donna King shared with us its fundamental ingredients as well as the basic technique — a long marination, at least 24 hours. This results in some of the juiciest chicken we've ever eaten. The chicken must also rest five or ten minutes after being dredged in the seasoned flour to, as King told us, "get doughy." The Bon Ton recipe calls for Ac'cent (monosodium glutamate) in both the marinade and the dredging mixture. We tested it with and without, and the chicken mainly tasted saltier with the Ac'cent, which some people preferred.
Active time: 45 min Start to finish: 25 hr
Makes 4 servings.
For marinade
1 qt water
2 tablespoons salt
2 teaspoons cayenne
2 teaspoons garlic powder
1 1/2 teaspoons white pepper
1 tablespoon soy sauce
2 teaspoons Worcestershire sauce
4 chicken breast halves, 4 thighs, and 4 drumsticks (all with skin and bones; 4 to 4 1/2 lb total)
For frying
About 12 cups vegetable oil
For dredging
3 cups all-purpose flour
1 tablespoon salt
1 teaspoon garlic powder
1 teaspoon cayenne
1 teaspoon white pepper
Marinate chicken:
Whisk together all marinade ingredients in a large bowl.Add chicken, making sure it is covered with marinade. Chill, covered, stirring twice, about 24 hours.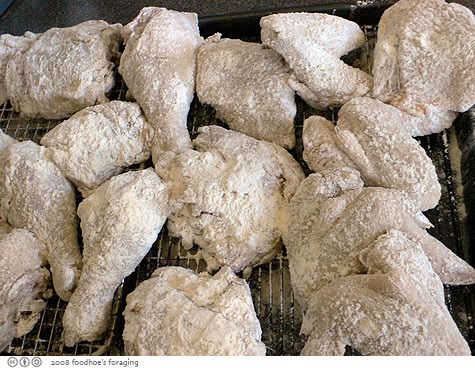 Dredge and fry chicken:
Heat 2 inches oil in a wide 8- to 9 1/2-quart pot over moderately high heat until a deep-fat thermometer registers 365 to 375°F.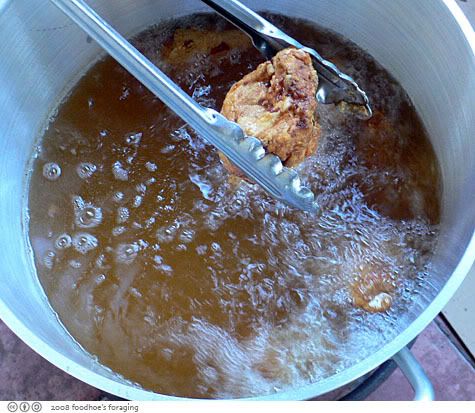 We took the chicken out and rested the pieces on racks to allow them to finish cooking and drip off excess grease.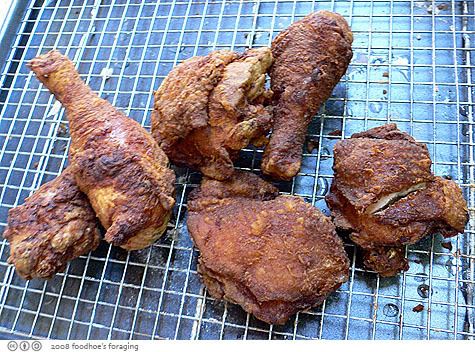 The chicken was succulent and juicy with an ethereally crisped crust. Delicious!